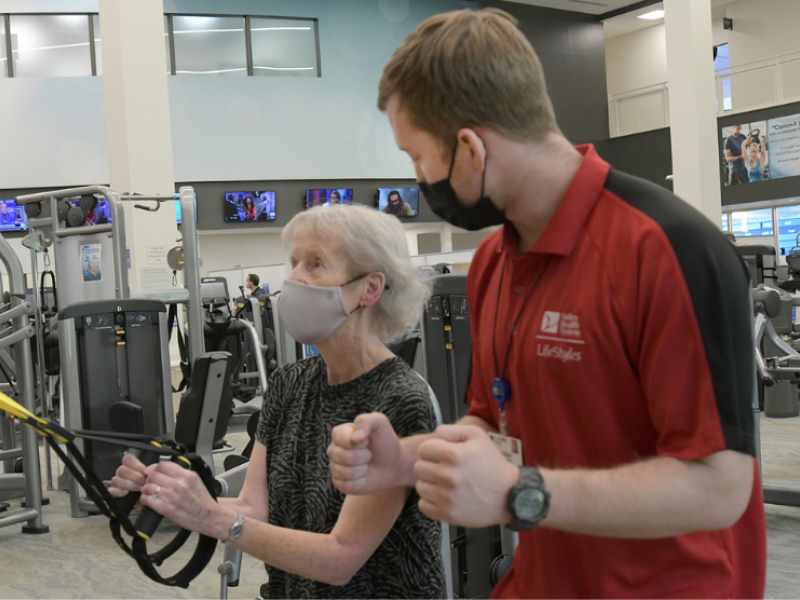 For many, the COVID-19 pandemic made it difficult to stay active and keep moving. Trish Bogucki, a Valley Health LifeStyles member, was among the countless individuals affected. After experiencing shunt failure to keep her hydrocephalus symptoms under control, Trish's balance began to deteriorate, making it hard to train in the gym. With help from personal trainer Josiah Bierwas, Trish was able to adapt her workout regimen and continue to stay active.
After undergoing surgery to replace her shunt, Trish wanted to get back to LifeStyles as quickly as possible. Due to post-procedural restrictions, Trish once again needed to adapt. Two days after her brain surgery, Trish was back in LifeStyles walking around the indoor track with her husband to stay active.
 "I am very grateful for the support I have received from many folks at LifeStyles. Josiah was undaunted – he found ways to keep me moving safely through several months of shunt failure. LifeStyles management was so supportive, allowing me to walk around the track after my surgery. Not surprisingly I made a very fast recovery and was back to full strength two weeks later," commented Trish.
To learn more about the services offered through Valley Health LifeStyles, please visit ValleyHealthLifestyles.com.