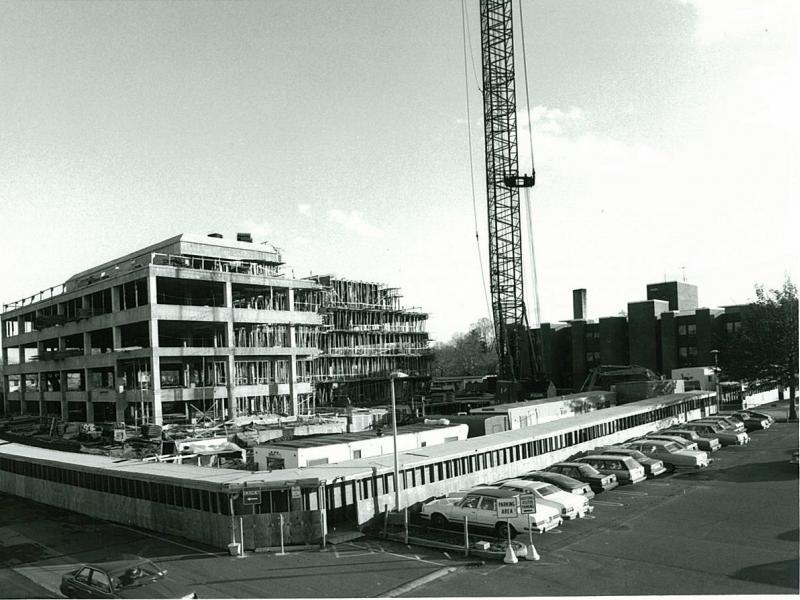 Sunday, August 8, marks a significant milestone in the history of The Valley Hospital. Seventy years ago, the hospital officially opened its doors to care for the residents of Ridgewood and the surrounding communities!

In honor of The Valley Hospital's 70th Anniversary, see the timeline below to learn just how much Valley has transformed over the years!
1951
The Valley Hospital is dedicated on August 5 and opens on August 8 with 108 beds, 22 bassinets, 78 physicians, 181 employees and more than 1,500 Auxiliary Members and volunteers.
1961-1967
The East Wing and West Wing opens, along with the Coronary Care and Intensive Care Units.
1971
The Cardiac Catheterization Lab opens.
1973
The F. Willard Bergen Pavilion opens. The first total hip replacement surgery is performed. The Same Day Surgery Unit opens.
1987
The Harold W. and Helen S. Cheel Pavilion is completed. Valley Home and Community Health Care is incorporated.
1988
The Cardiac Surgery Program and the Coronary Angioplasty Program are initiated.
1996
Valley acquires Healthnet Medical Group.
1997
Valley Health System is formed.
1998
The Lawrence P. and Dorothy J. Marron Critical Care Floor opens. The Renal Care Center opens.
2002
The Robert and Audrey Luckow Pavilion opens. It now includes The George R. Jaqua Same Day Services Center, The Daniel and Gloria Blumenthal Cancer Center, The Valley Hospital Pain Management Center, The Valley Hospital Fertility Center and the MRI Outpatient Center.
2004
Valley is the first hospital in New Jersey to offer catheter ablation for atrial fibrillation, a non-surgical approach to treatment.
2006
The Center for Sleep Medicine, a state-of-the-art facility that provides diagnosis and treatment for a variety of sleep disorders and ailments, opens.
2011
Valley Medical Group is established and now comprises more than 300 doctors and advanced practice professionals representing more than 40 medical and surgical specialties throughout northern New Jersey and southern New York.
2014
Valley Health System and Mount Sinai align for comprehensive cancer care.
2015
Valley Health System is chosen as a regional cardiovascular affiliate by the Cleveland Clinic Heart and Vascular Institute.
2017
Valley Medical Group opens 30,000 square-foot multispecialty medical practice in Wayne.
2018
The Center for Health and Wellness opens in Mahwah with a ribbon-cutting for Valley Health LifeStyles, Valley's medically supervised fitness center.
2019
Valley breaks ground on a new, state-of-the-art hospital in Paramus. 
Valley's Wellness & Walk-In Care Center opens at Garden State Plaza.Valley partners with DispatchHealth to deliver high-quality urgent care to patients in the comfort of their homes.
2020
Valley Connect Now debuts, providing real-time urgent care for minor, non-life-threatening illnesses and injuries, 24/7.