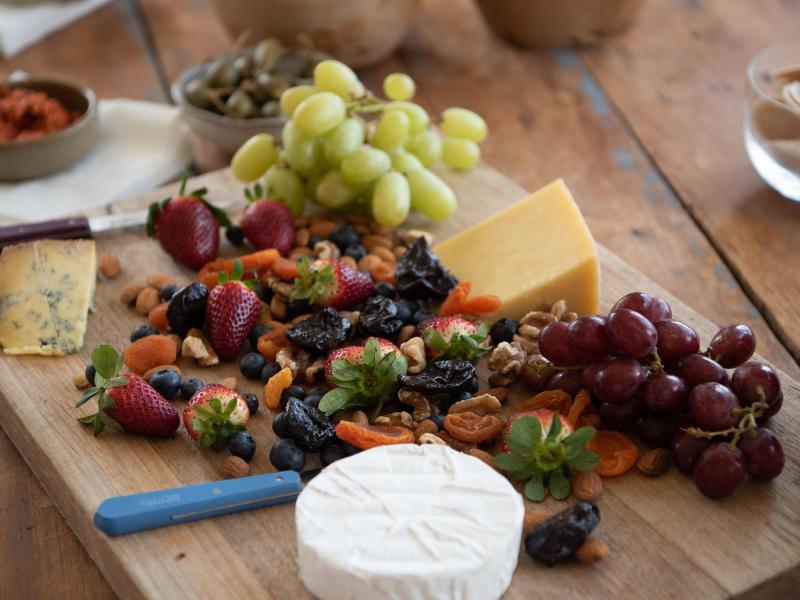 Warmer months and sunnier skies are on their way, and, for many of us, that means more time spent outside. If you are heading to the beach or going to a park, you will need some snack ideas to keep you healthy while you are away from home.
Planning is key for making the best snack decisions. When you are out, convenience food can replace more nutritious options. But if you plan ahead, you can keep yourself on track.
To create the best snack, keep these tips in mind. First, make sure the snack is appropriate for the activity. For example, if you are going for a hike, try something handheld. Second, when building a snack, make it a well-rounded one by choosing at least two of these three food groups: carbohydrates, protein, and fat. Third, and most importantly, choose the healthiest versions of food from these food groups. For example, when choosing carbohydrates, choose whole grains. When choosing protein, go lean. And, when choosing fat, make it heart healthy. Below are a few examples for you to try!
Fruit with yogurt: Try chopping up your favorite fruit and using a low-fat Greek yogurt as a dip.
Yogurt with granola: Instead of fruit, add a high-fiber granola to yogurt (look for brands with >3 grams of fiber per serving). Just make sure to stick to the serving size on the label because granola is calorically dense.
Granola bar: A bar can be a great option when you are on the go. If you want to try making your own at home, try these Apricot Cashew Granola Bars from CookingLight.com.
Cottage cheese with fruit or nuts: Add a fruit or a nut option to help round out this protein-packed snack. Remember, when choosing a cottage cheese, try a low-fat, low-sodium variety for heart health.
Cheese and crackers: Make sure to choose a whole grain cracker and pair it with a part-skim or a low-fat cheese option.
Cheese and nuts: Looking to skip carbs when you snack? Then pair a handful of nuts with a low-fat cheese stick or a wedge for a quick bite.
Peanut butter and crackers: This classic snack can be a great choice if you choose whole grain crackers and stick to the serving size when spooning out your favorite nut butter.
Vegetables with hummus or guacamole: Vegetables like carrots, bell peppers, and cucumbers can serve as a utensil to help scoop up hummus or guacamole.
Popcorn and parmesan: Popcorn is a good source of fiber that can be taken on the go.  Adding a bit of parmesan with some herbs can add a kick of flavor without a lot of calories.
Turkey and cheese pinwheels: Take a whole grain wrap, add hummus, slices of turkey, and a low-fat cheese. Next, roll up the wrap and cut it into equal sections to create the perfect miniature sandwich.
If you would like to meet with a dietitian, book an appointment with us by contacting Joe Juliano, RDN, Nutrition and Wellness Manager, at 201-447-8093 or [email protected]. Until then, snack healthy!