Valley's Center for Bariatric Surgery and Weight-Loss Management provides a team approach to bariatric surgery, offering personalized surgical options and a full spectrum of medical and support services to help patients improve their health.
Medical Director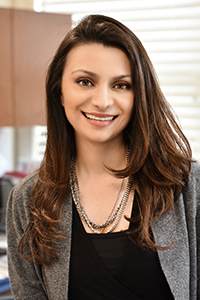 Board certified in general surgery and fellowship trained in minimally invasive and bariatric surgery, Melissa Bagloo, MD, has been a member of the Valley Hospital medical staff since 2010.
Dr. Bagloo specializes in minimally invasive metabolic and weight-loss procedures, including sleeve gastrectomy, gastric bypass, adjustable gastric band placement, duodenal switch, and revisional bariatric surgery. She also practices general surgery, specializing in minimally invasive approaches to gallbladder surgery, hernia surgery, paraesophageal hernia repair and surgery for gastroesophageal reflux disease (GERD). She has a special interest in the surgical treatment of Type 2 diabetes mellitus and metabolic surgery.
"Our patients are the driving force behind our dedication in helping them to achieve successful weight loss and improve their quality of life," Dr. Bagloo says. "We assist patients in determining the best type of surgery for them, based on our personalized approach to caring for the whole person."
According to Dr. Bagloo, minimally invasive bariatric surgery significantly reduces incision size and recovery time. "We use laparoscopic or robotic techniques, inserting a fiber optic instrument through a small incision – barely the size of a thumbnail. This technique reduces blood loss, the chance of wound complications, and overall discomfort. The technique also reduces the amount of time patients stay in the hospital."
Dr. Bagloo received her medical degree from the University of Florida College of Medicine in 2004. She completed her residency at New York University School of Medicine in 2009 and her fellowship at Weill Medical College of Cornell University and Columbia College of Physicians and Surgeons in 2010. She remained on the faculty for Columbia as an Associate Professor of Clinical Surgery until assuming her current role as the Medical Director for The Center for Metabolic and Weight-Loss Surgery at The Valley Hospital.
Clinical Team
Amy is a board-certified adult gerontology and acute-care nurse practitioner at the Center for Bariatric Surgery and Weight-Loss Management. Amy holds a bachelor's degree in kinesiology from Cal Poly San Luis Obispo, a bachelor's degree in nursing, and a master's degree in nursing from New York University. Before joining the Center for Bariatric Surgery and Weight-Loss Management, Amy spent six years at NYU Langone Medical Center as a registered nurse in the recovery room and later as a surgical nurse practitioner. Since joining Valley Medical Group in 2015, Amy has been an integral part in developing the Center for Bariatric Surgery and Weight-Loss Management's medical weight management and bariatric exercise physiology programs.
Meredith Urban, MS, RD, CDN, Registered Dietitian
Meredith received a master's degree in clinical nutrition from New York University. She has worked with bariatric patients since 2001 and has written numerous text chapters and journal articles on nutrition and dietary guidelines for the bariatric patient. Meredith has been a guest speaker at The American Society for Metabolic and Bariatric Surgery, ASMBS, and The International Federation for the Surgery of Obesity and Metabolic Disorders. Before joining The Valley Hospital in 2009, Meredith worked as a bariatric nutritionist at Columbia University Medical Center, New York University Medical Center, and Mount Sinai Medical Center.
Jaclyn Studer MSN, RN-BC, RN, Patient Coordinator
Jackie is a board-certified registered nurse and joined Valley Medical Group in 2019. She holds a bachelor's degree in nursing from Ramapo College of NJ and a master's degree in nursing from Rutgers University. Prior to joining Valley, Jackie worked for eight years as a staff nurse at Hackensack University Medical Center, including four years caring specifically for bariatric surgery patients. 
 
Office Staff
Karen Mikalouskas, Practice Manager
With more than 20 years of experience in the health and wellness industry, Karen brings a great deal of knowledge to her role as the Practice Manager for the Center for Bariatric Surgery and Weight-Loss Management. Before joining Valley, Karen was the Office and Operations Manager for Holy Name Medical Center's medically based fitness center, HNHFitness, in Oradell. During her nine years at the center, she was responsible for all member and community-based relations. Karen also worked as a regional director for Sportscare Institute, Inc., where she was responsible for managing the reception staff in all of the company's Bergen and Rockland County facilities to ensure patient satisfaction. Karen's first role in the industry was as a manager for a team of health and welfare benefit specialists at Mellon Financial.
Amee Pandya, Billing Coordinator
Amee received a bachelor's degree in computer science from New Jersey City University. She joined Valley in 2016, bringing with her more than a decade's worth of experience in the healthcare industry. Amee has extensive experience working with insurance companies and has the necessary knowledge and skills to assist patients with their billing questions.
Gina Smith, Administrative Assistant
Gina has been a member of the bariatric surgery program at Valley since its creation. Her customer service skills have helped many patients begin their weight-loss journey by giving them the essential information that is needed for their initial consultation. Gina's main goal is to deliver compassionate care to every patient.
Pedro Ortiz, CMA, Certified Medical Assistant
Pedro joined Valley Medical Group in 2015, bringing with him the experience gained from working at a fast-paced occupational medicine practice. Pedro focuses on assisting patients through the entire weight-loss process.
Estefany Hernandez, Business Associate
Estefany joined Valley Medical Group in 2017. She earned her bachelor's degree in linguistics from Montclair State University. With more than 10 years of customer service experience, Estefany is ready to assist all our patients throughout their weight-loss journey.