September 27, 2018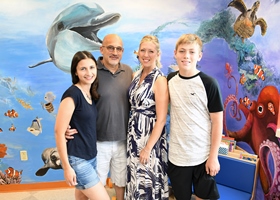 Thanks to a generous in-kind donation from Michael and Betty Ann Buono, a visit to The Valley Hospital's pediatric playroom feels more like a visit to an aquarium than to a children's play space within a hospital.  
The vibrant blue mural of underwater sea creatures was painted by local artist Gina Miccinilli to produce a child-friendly environment. Life-sized dolphins, sea turtles, whales, seals, an octopus, and various tropical fish make up the elaborate scene.
"Children like to visit the pediatric playroom for entertainment and activity," says Susan Apple, RN, Manager of NICU, Pediatrics, PICU. "The new mural seems to be having a calming effect on many of our young patients because it distracts them from the reason they are here. It's a fun and beautiful space."
A gift like this enhances Valley's ability to improve the patient experience. Valley is very grateful to the Buono family for this generous contribution.