April 27, 2017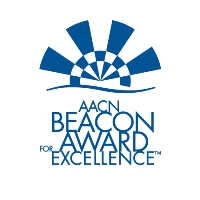 The Valley Hospital is proud to announce that its Neonatal Intensive Care Unit (NICU) has received a silver-level Beacon Award for Excellence from the American Association of Critical-Care Nurses (AACN). Valley's NICU is the only one in New Jersey to have received this recognition.
The Beacon Award for Excellence — recognition of exceptional patient care and healthy work environments — recognizes unit caregivers who successfully improve patient outcomes and align practices with AACN's six Healthy Work Environment Standards. Units that achieve this three-year, three-level award with a gold, silver or bronze designation meet national criteria consistent with Magnet Recognition, the Malcolm Baldrige National Quality Award and the National Quality Healthcare Award.
"We are excited and honored to receive this award," said Paul Quinn, Ph.D., C.N.M., NEA-BC, Director of Inpatient Women's and Children's Services at Valley.  "For our patients and their families, the Beacon Award signifies exceptional care and acknowledges our nurses for their clinical expertise."
AACN President Clareen Wiencek, RN, PhD, ACNP, ACHPN, applauds the commitment of the caregivers at unit name at Hospital name for working together to meet and exceed the high standards set forth by the Beacon Award for Excellence. These dedicated healthcare professionals join other members of the exceptional community of nurses who set the standard for optimal patient care.
"The Beacon Award for Excellence recognizes caregivers in stellar units whose consistent and systematic approach to evidence-based care optimizes patient outcomes. Units that receive this national recognition serve as role models to others on their journey to excellent patient and family care," she explains.
The NICU joins Valley's four adult critical care units in earning the Beacon Awards.
About the American Association of Critical-Care Nurses: Founded in 1969 and based in Aliso Viejo, Calif., the American Association of Critical-Care Nurses (AACN) is the largest specialty nursing organization in the world. AACN joins together the interests of more than 500,000 acute and critical care nurses and claims more than 235 chapters worldwide. The organization's vision is to create a healthcare system driven by the needs of patients and their families in which acute and critical care nurses make their optimal contribution. To learn more about AACN, visit www.aacn.org, connect with the organization on Facebook at www.facebook.com/aacnface or follow AACN on Twitter at www.twitter.com/aacnme.
About the Valley Hospital 
The Valley Hospital, a 451-bed, acute care, not-for-profit hospital located in Ridgewood, NJ, is part of Valley Health System, which also includes Valley Home Care and Valley Medical Group. Valley is the recipient of numerous awards and recognitions.  These include Gold Seals of Approval from the Joint Commission in 14 clinical areas, including six for cancer care, more than any other hospital in the nation. Valley has also been recognized by Healthgrades as one of America's 100 Best Hospitals for Orthopedic Surgery and with excellence awards for cranial neurosurgery and stroke. Valley has also been honored three times with "Magnet" designation – the nursing profession's highest honor. Valley is a cardiovascular affiliate of the Cleveland Clinic Heart and Vascular Institute, and an academic and clinical affiliate of the Mount Sinai Health System. Key services include cardiology, oncology, women's and children's services, emergency care, orthopedics, and neurosciences. For more information please visit www.ValleyHealth.com, and follow Valley on Facebook, Twitter and Instagram.