January 17, 2018
Izabela Gardula, a breast cancer patient, recently started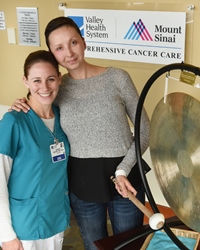 a new tradition at Valley for celebrating the completion of chemotherapy treatments. Immediately after her final chemotherapy treatment, Izabela ceremoniously marked the end of more than a year of chemotherapy by banging a gong three times in front of her friends and some Valley staff members involved in her care.
Izabela used Instagram to see what other cancer patients around the world were doing to commemorate the milestone of completing chemotherapy treatments. She discovered that many patients completed a ceremony with a bell or a gong at the end of their treatment. Izabela used a gong, which has a stronger and more vibrant tone, to symbolically exclaim the end of all of the physical and emotional hurdles that come with a cancer diagnosis. 
Gongs Unlimited donated a gong to Izabela to use for the ceremony, and Izabela then donated it to Valley-Mount Sinai Comprehensive Cancer Care for all chemotherapy patients finishing treatment to use going forward. 
At the end of her ceremony, Izabela said, "Thank you to all at Valley for being a part of my journey and helping me get through these past 15 months. I would like to especially thank Chad DeYoung, M.D.; Jordan Farkas, M.D.; Tihesha Wilson, M.D.; Thomas Rakowski, M.D.; Geraldine Redmond, P.A.; Karen Kwilecki; Elena Fishman, APN; Brooke Laster, MSW; my amazing infusion nurse, Lindsay Buldo, R.N.; my wonderful radiation therapists: Amber Herrick, Hugo Pereira, Joan Riedy, Laura Nappi, Susan McConnell; and all the amazing people in the Infusion and Radiation departments who helped, guided and supported me. The best decision I ever made was to come to Valley for my treatment."
Photo caption: Izabela Gardula (right), a Valley breast cancer patient, started a tradition of banging a gong to ceremoniously mark the end of chemotherapy treatments at Valley-Mount Sinai Comprehensive Cancer Care.