April 1, 2019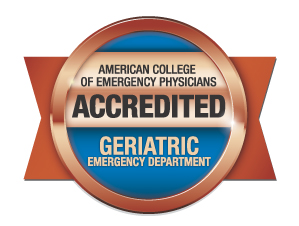 The Valley Hospital's Department of Emergency Medicine has earned Geriatric Accreditation by the American College of Emergency Physicians (ACEP). 
Launched in May 2018, the program recognizes emergency departments that promote quality care for older adult patients, including transitions of care, quality improvement and outcomes, and enhancements to the treatment area and process to increase the comfort of senior patients.
"We are pleased to be recognized as an Accredited Geriatric Emergency Department," said George Becker, M.D., Emergency Medicine at The Valley Hospital. "This accreditation reflects the strong emphasis our Emergency Department staff places in serving the needs of our senior population with optimal care and support.
As an accredited Geriatric ED, Valley incorporates best practices for geriatric care, provides inter-disciplinary geriatric education and has geriatric appropriate equipment and supplies available. 
"Older adults visit emergency departments at a high rate, present with multiple chronic conditions and face more social and physical challenges than the general population," said Paul Kivela, M.D., MBA, FACEP, President of ACEP. "Seniors who visit an ACEP accredited emergency department can be assured that the facility has the necessary expertise, equipment and personnel in place to provide optimal care."