July 26, 2017
The Valley Hospital's Echocardiography Lab has been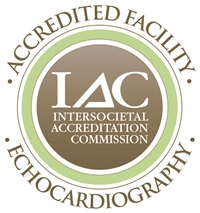 granted an additional three-year term of accreditation by the Intersocietal Accreditation Commission (IAC) in Echocardiography in the areas of Adult Transthoracic and Adult Stress. This accreditation is a seal of approval that patients can rely on as an indicator for consistent quality care and dedication to continuous improvement, according to the IAC.
"We are delighted to have been granted reaccreditation by the IAC," said Colleen Deery-Lascari, Manager, Patient Care Services. "This reaccreditation demonstrates the Valley's ongoing commitment to providing quality patient care." 
Echocardiography uses a type of ultrasound known as an echocardiogram to assess different areas of the heart and can detect heart disease or signs of other serious conditions. 
Accreditation by the IAC indicates that Valley's Echocardiography Lab has undergone an intensive application and review process and is found to be in compliance with the published Standards. The accreditation process, comprised of a detailed self-evaluation followed by a thorough review by a panel of medical experts, assesses both the critical operational and technical components of the facility, including representative case studies and their corresponding final reports.
About IAC
The IAC provides accreditation programs for vascular testing, echocardiography, nuclear/PET, MRI, diagnostic CT, dental CT, carotid stenting, vein treatment and management, cardiac electrophysiology and cardiovascular catheterization (coming Fall 2017). The IAC programs for accreditation are dedicated to ensuring quality patient care and promoting health care and all support one common mission: Improving health care through accreditation®