July 30, 2018
For the third consecutive year, The Valley Hospital has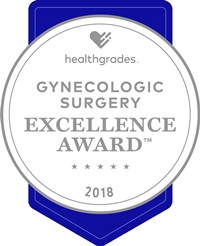 been recognized with the 2018 Gynecologic Surgery Excellence Award™ by Healthgrades for providing outstanding performance in gynecologic surgery. This recognition places Valley's Gynecologic Surgery program in the top 10 percent of hospitals evaluated for this procedure in 2018. 
Valley has also been named a Five-Star Recipient for Gynecologic Procedures, Hysterectomy and C-Section Delivery by Healthgrades for 2018.
"We are delighted that our Gynecologic Surgery program has been recognized by Healthgrades for outstanding performance," said Audrey Meyers, President and CEO of The Valley Hospital and Valley Health System. "This recognition is a testament to the strong teamwork of our surgeons and clinicians, and the high value they place on providing the best patient care and clinical outcomes possible."
According to Healthgrades, patients treated in hospitals receiving the Gynecologic Surgery Excellence Award had, on average, a 46.3 percent lower risk of experiencing a complication while in the hospital than if they were treated in hospitals that did not receive the award.* If all hospitals in the analysis performed similarly to those receiving the Healthgrades Gynecologic Surgery Excellence Award, complications could have potentially been avoided for 12,637 patients.*
"High-quality outcomes are a top priority for consumers when choosing hospitals, and the recipients of the 2018 Gynecologic Surgery Excellence Award stand out due to their records of success," said Brad Bowman, M.D., Chief Medical Officer, Healthgrades. "Hospitals that have received a five-star rating have shown dedication and expertise, resulting in high-quality outcomes for patients."
* Statistics are based on Healthgrades analysis of all-payer data for years 2014 through 2016 and represent three-year estimates for patients in 17 states for which all-payer data was made available.