March 12, 2017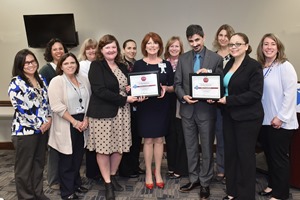 Valley Health System has received the Health Champion Designation from the American Diabetes Association. This designation recognizes companies and organizations that inspire and encourage organizational well-being and is part of the Association's Wellness Lives HereSM initiative. 
"Valley is honored that our commitment to making the health and wellness of our employees a priority has been recognized by the American Diabetes Association," said Barbara Schultz, Director of Employee Health, Valley Health System. "Encouraging the adoption of healthy habits benefits our team members, their families, and our company's productivity and morale overall."
To qualify for the Health Champion Designation, a company or organization must meet the healthy living criteria in the areas of nutrition and weight management, physical activity and organizational well-being.
Valley Health System offers unique, comprehensive and voluntary health and wellness initiatives for their employees. Their It's Your Move program incentivizes employees, through discounts on health insurance premiums, to complete biometric screenings and at least one age-appropriate screening or dental checkup. Employees are personally contacted regarding their results, and are offered individual education, health coaching, resources and a three-month follow-up lab work to determine progress and improvement as necessary. The program's outcomes have showed dramatic improvement in the overall health and lab values for those employees who were found to be pre-diabetic but unaware of that fact, illustrating that lifestyle changes and positive support do make a difference. In addition, Valley has also begun to offer subsidies for Weight Watcher's participants as another important resource to encourage and assist employees in maintaining a healthy lifestyle.  
About the American Diabetes Association:
The American Diabetes Association is leading the fight to Stop Diabetes and its deadly consequences and fighting for those affected by diabetes. The Association funds research to prevent, cure and manage diabetes; delivers services to hundreds of communities; provides objective and credible information; and gives voice to those denied their rights because of diabetes. For the past 75 years, its mission has been to prevent and cure diabetes and to improve the lives of all people affected by diabetes. 
Photo caption: Valley Health System has been named a Health Champion by the American Diabetes Association. Taran Connolly (3rd from left) and Barbara Ortiz (2nd from right) from the American Diabetes Association's New Jersey office presented the award to Barbara Schultz, Director, Employee Health and Wellness, Valley Health System, Jose Baldarrama, VP Human Resources, Valley Health System, and staff members of Valley's Employee Health and Wellness and Human Resources departments.