April 25, 2017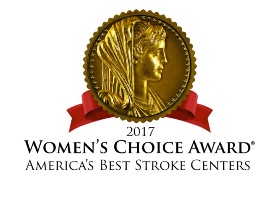 The Valley Hospital is proud to announce that it has earned the 2017 Women's Choice Award as one of America's Best Stroke Centers. Valley qualified for this evidence-based designation by being ranked in the top 7 percent of nearly 4,800 U.S. hospitals. 
"We are proud to be recognized as one of the nation's best for stroke care," said Audrey Meyers, President and CEO of The Valley Hospital and Valley Health System. "This signifies Valley's commitment to meeting the highest standards in stroke care."
Valley's Stroke Center has also been recognized with the 2017 Healthgrades Stroke Care Excellence Award, which places Valley in the top 10 percent of hospitals in the nation for stroke care. Valley has also received the Gold Seal of Approval (also known as a disease specific certification) for stroke by the Joint Commission, and the Get With The Guidelines®-Stroke Gold-Plus Quality Achievement Award and Target: Stroke Honor Roll Elite Plus recognition from American Heart Association/American Stroke Association.
According to the Centers for Disease Control and Prevention, one in five women in the United States will have a stroke in her lifetime. Nearly 60 percent of stroke deaths are in women, and stroke kills twice as many women as breast cancer.  Most alarming, the percentage of strokes in women under age 45 is increasing, with studies showing these women are more likely to be misdiagnosed. 
The Women's Choice Award is based on robust criteria that consider patient satisfaction, clinical excellence, and what women really want when it comes to treatment and a quality hospital experience. To qualify for the 2017 America's Best Stroke Centers list, stroke centers must be certified by the Joint Commission Stroke Certification Program as an Advanced Primary Stroke Center and/or Advanced Comprehensive Stroke Center.  Methodology used to assess hospitals for the award included evaluating 30-day stroke mortality and readmission rates, Hospital Consumer Assessment of Healthcare Providers and Systems (HCAHPS) survey results and primary research about women's healthcare preferences.  Hospitals must also score in the top 80 percent of all hospitals in the following areas:
•    Percent of patients receiving head CT scan results within 45 minutes
•    Percent of patients receiving thrombolytic therapy
•    Percent of patients receiving stroke education
"Timely diagnosis and effective care are critical to preventing disability and improving chances of recovery," said Delia Passi, founder and CEO of the Women's Choice Award.  "Our award educates women about where they—and their loved ones—have the best chance to return to a full life following a stroke."