November 2, 2018
For the 18th consecutive year, Valley Health System has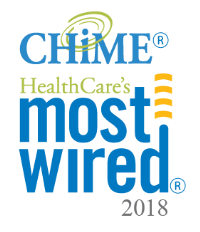 been recognized as one of the nation's "Most Wired," according to CHIME HealthCare's Most Wired™ 2018 Survey.
HealthCare's Most Wired, now in its 20th year, traditionally tracked the adoption of healthcare IT in hospitals and health systems. In 2018, the College of Healthcare Information Management Executives (CHIME) took over the Most Wired program and revised this year's survey questions and methodology to highlight strengths and gaps in the healthcare IT industry and how organizations not only adopt technology, but also apply it strategically to achieve the best outcomes. 
"Valley is proud to have once again made the Most Wired list," said Eric Carey, Vice President of Information Systems and Chief Information Officer for Valley Health System. "We are strategically leveraging our technology to optimize access to high-quality care and communication with our patients."
According to an analysis of CHIME HealthCare's Most Wired survey results, two key areas emerged in 2018: the use of foundational technologies, such as integration, interoperability, security and disaster recovery; and the use of transformational technologies to support population health management, value-based care, patient engagement and telehealth. 
"The technology is important, but leadership and a strategic vision are equally important," said Russell Branzell, president and CEO of CHIME. "The diversity of healthcare organizations that earned Most Wired status this year shows quality care can be achieved almost anywhere under the right leadership."   
About CHIME
The College of Healthcare Information Management Executives (CHIME) is an executive organization dedicated to serving chief information officers (CIOs), chief medical information officers (CMIOs), chief nursing information officers (CNIOs) and other senior healthcare IT leaders. With more than 2,700 members in 51 countries and over 150 healthcare IT business partners and professional services firms, CHIME provides a highly interactive, trusted environment enabling senior professional and industry leaders to collaborate; exchange best practices; address professional development needs; and advocate the effective use of information management to improve the health and healthcare in the communities they serve. For more information, please visit chimecentral.org.