July 20, 2017
For the 17th consecutive year, Valley Health System has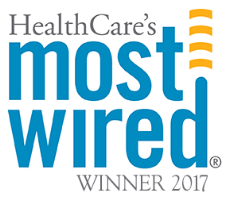 been recognized as one of the nation's Most Wired Hospitals, according to the 19th Annual HealthCare's Most Wired™ Survey, released by the American Hospital Association's Health Forum.
The Most Wired distinction recognizes hospitals for successful health IT planning and implementation, and for using technology to help patients become more actively involved in their care. HealthCare's Most Wired™ Survey, conducted between January 15 and March 15, 2017, is published annually by Health & Hospitals Network (H&HN). The survey of 698 participants—representing 39 percent of all hospitals in the U.S.—examines how organizations are leveraging IT to improve performance for value-based healthcare in the areas of infrastructure, business and administrative management, quality and safety, and clinical integration.
"One of the first and most important decisions a parent can make for their new baby is selecting a high-quality hospital for their delivery," said Brad Bowman, MD, Chief Medical Officer, Healthgrades. "Consumers can take advantage of the plethora of information available about quality outcomes when researching and then ultimately selecting a hospital for their loved ones." 
 "Valley is proud to have once again made the Most Wired list," said Eric Carey, Vice President of Information Systems and Chief Information Officer for Valley Health System. "We are keeping up with technology that has been created to improve the ways we communicate with our patients and provide access to high-quality care."
Detailed results of the survey and study can be found in the July issue of H&HN Magazine. For a full list of winners, visit www.hhnmag.com.