October 11, 2023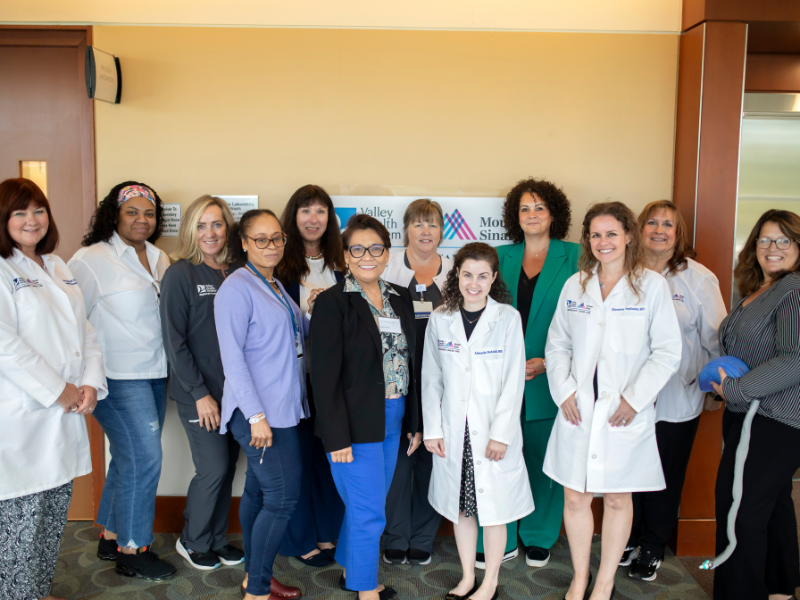 Valley-Mount Sinai Comprehensive Cancer Care was honored to welcome Claire Paxman, Brand Ambassador and Director of Global Training at Paxman, who presented a Clinical Pioneer Program training for Valley's oncology staff.
As part of the Clinical Pioneer Program, Claire Paxman and additional Paxman representatives presented on the Paxman Scalp Cooling System, gave a demonstration on the system, answered staff questions, and performed assessments of the infusion nurses using the system.
Scalp cooling is a simple, noninvasive treatment technology that reduces the temperature of the scalp to between 68- and 72- degrees Fahrenheit. By cooling the scalp, blood flow to the area is reduced and less blood containing the chemotherapy agents reaches the hair follicles. The cooling also causes the cells in the hair follicles to become dormant, preventing the cells from rapidly dividing, and subsequently being less affected by chemotherapy and limiting hair loss
The Paxman System consists of a compact refrigeration system unit with coolant that is circulated through specifically designed single-patient-use cooling caps. 
"Hair loss is one of the most traumatic aspects of receiving chemotherapy. Paxman's Scalp Cooling technology provides the ability to potentially prevent hair loss, which can be incredibly helpful for patients," said medical oncologist Eleonora Teplinsky, MD, Head of Breast and Gynecologic Medical Oncology, Valley-Mount Sinai Comprehensive Cancer Care. 
In attendance at the training were members of Valley's infusion team, clinical trials team, oncology nursing team, and oncology leadership. 
"The visit from Paxman enables us to have the ability to personally connect with the founders and representatives of the company. Additionally, it provides more hands-on opportunities for our nursing staff to better understand the Paxman technology and devices," said Amanda Podolski, MD, a Valley oncologist.
Scalp cooling is more effective in preventing hair loss associated with certain chemotherapy regimens than others. It is important to speak to your healthcare provider prior to deciding whether to proceed with scalp cooling and to see if this is something that would be appropriate for you during your treatment.
Recent studies, such as the HOPE Study, found the use of scalp cooling resulted in a faster recovery of hair volume after chemotherapy, even in patients for whom scalp cooling failed to prevent chemotherapy-induced alopecia. 
Valley is also participating in the ICE-COMPRESS clinical trial evaluating the novel Paxman Limb Cryocompression System, a device that uses wraps to cool and/or compress the arms and legs. The clinical trial is comparing the effectiveness of three different approaches to see whether they can prevent or reduce chemotherapy-induced peripheral neuropathy, which can be a debilitating chemotherapy side effect. At this time, Valley is the only site in New Jersey participating in the trial. The clinical trial is sponsored by SWOG Cancer Research Network in collaboration with the National Cancer Institute (NCI).
For more information about scalp cooling at Valley, please visit ValleyHealth.com/ScalpCooling.