September 6, 2017
Valley-Mount Sinai Comprehensive Cancer Care is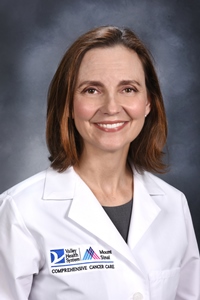 pleased to announce the appointment of Marie Welshinger, M.D., as Medical Director, Gynecologic Oncology.  Dr. Welshinger's appointment was effective September 5.
Dr. Welshinger is board-certified in obstetrics and gynecology and gynecologic oncology and is an expert in treating patients with gynecological cancers.  She received her medical degree from the University of Minnesota School of Medicine and completed her residency at University Hospital, State University of New York at Stony Brook. Dr. Welshinger completed her fellowship in Gynecologic Oncology at Memorial Sloan-Kettering Cancer Center. Prior to joining Valley, she served as Director, Division of Gynecologic Oncology at Saint Peter's University Hospital in New Brunswick, NJ. 
"Treatment for women who have been diagnosed with a gynecologic cancer involves much more than surgery alone," explains Dr. Welshinger. "We must take a multidisciplinary and individualized approach to caring for our patients and be cognizant of the unique concerns, such as the desire to have a family, that can arise throughout the treatment process. Our team is committed to serving all of our patients' physical and emotional needs, and we are privileged to be allowed to care for them." 
Valley-Mount Sinai Comprehensive Cancer Care is a partnership between Valley Health System and  Mount Sinai Health System offering offer leading edge, patient-centered cancer care in northern New Jersey. The Tisch Cancer Institute, an NCI-designated Cancer Center, and the Icahn School of Medicine at Mount Sinai are respected world-wide for their expertise and innovation.  Valley's affiliation with Mount Sinai enhances Valley's exceptional cancer services through new programs in cancer patient care and clinical research.
Dr. Welshinger's office is located at Valley's Luckow Pavilion in Paramus. To make an appointment with Dr. Welshinger please call 201-634-5401. To learn more about Valley-Mount Sinai Comprehensive Cancer Care, please visit www.valleyhealthcancercenter.com.