September 15, 2020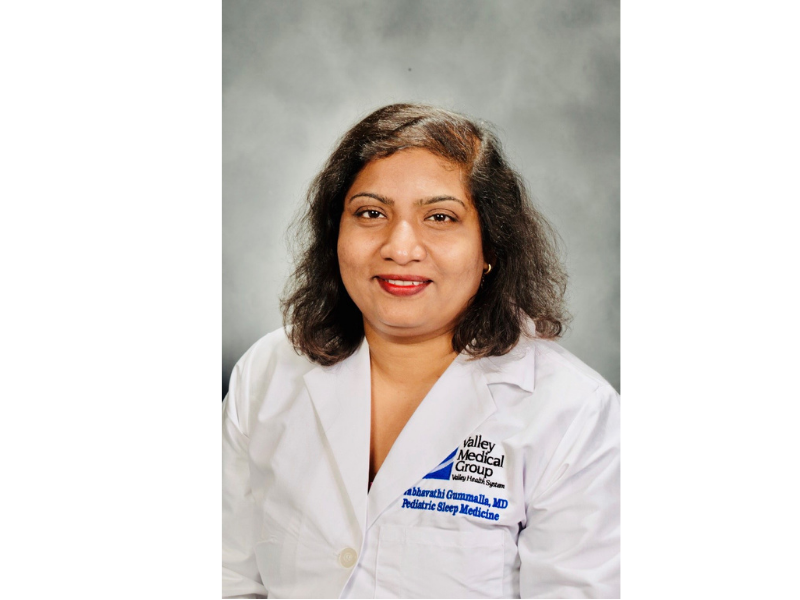 Valley Health System is pleased to welcome board-certified pediatrician and board-eligible pediatric sleep physician and pediatric pulmonologist, Prabhavathi Gummalla, MD. Dr. Gummalla brings years of expertise and training in pediatric pulmonology and sleep medicine to Valley's Pediatric Sleep Disorders and Apnea Center.
Dr. Gummalla will be working with children and their families to diagnose and treat a range of sleep disorders, including obstructive sleep apnea, insomnia, restless leg syndrome, narcolepsy, central apneas, parasomnias, REM behavioral disorders and circadian rhythm disorders. She also treats sleep-related conditions in infants, including laryngomalacia and other upper airway conditions that may be affecting breathing patterns, or acute life-threatening apnea episodes.
"Pediatric sleep medicine is still a relatively new and emerging specialty," says Dr. Gummalla. "In my years of practice, I have seen how improving the sleep of a child can make a tremendous difference in the quality of life for the child and their family."
Dr. Gummalla joins the Pediatric Sleep Disorders and Apnea Center at The Valley Hospital, where a team of registered polysomnographic technicians, respiratory therapists, and pediatric home care nurses work together to conduct medical consultation, evaluation, and overnight sleep monitoring in a state-of-the-art Pediatric Sleep Laboratory to formulate a diagnosis, and create a treatment plan for each child and their family.
While specializing in pediatric intensive care in England, Dr. Gummalla grew an interest in pediatric sleep disorders. "Sleep disorders often go undiagnosed, but we find that the condition can be contributing to other issues a child may be facing, like migraines, bedwetting, inattention, hyperactivity, learning difficulties, mood disorders, anxiety, depression and addictions," says Dr. Gummalla. "I believe in a holistic approach and work with each individual child and family to offer treatment options to meet their unique needs, such as speech pathology or myofunctional therapy."
Dr. Gummalla attended medical school at Kurnool Medical College in India. After serving as a pediatric intensive care physician in England, she moved to the United States to join her family. Dr. Gummalla completed her residency in pediatrics at Brookdale University Hospital in Brooklyn. She then completed dual fellowships; one in pediatric pulmonology at SUNY Downstate Hospital and another in sleep medicine at SUNY Stonybrook University Hospital. Dr. Gummalla is an elected fellow of the American Academy of Pediatrics and a member of the American Academy of Sleep Medicine. She has presented at various academic conferences including SLEEP, American Thoracic Society and CHEST conferences. She has been actively involved in research about acute severe asthma and obstructive sleep apnea in children.
Dr. Gummalla participates in most insurance plans. To make an appointment with Dr. Gummalla, please call 1-800-VALLEY-1.