June 7, 2017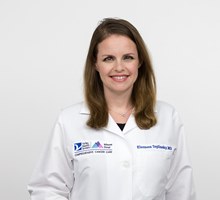 Valley Health System is pleased to announce the appointment of Eleonora Teplinsky, M.D., as the Director of Breast Medical Oncology.  
Dr. Teplinsky is board-certified in internal medicine and medical oncology and has expertise in treating patients with breast and gynecological cancers.  She received her medical degree from and completed her residency at Tufts University School of Medicine in Boston. Dr. Teplinsky completed a fellowship in hematology and oncology at NYU Langone Medical Center in New York City. 
Prior to joining Valley, Dr. Teplinsky served as an attending physician at Northwell Health's Monter Cancer Center in New York. She was also an Assistant Professor at the Hofstra Northwell School of Medicine in New York. 
Dr. Teplinsky's practice is focused on women's cancer and women's health, with a special interest in young women with breast cancer. "I am not just treating a disease; I am building a life-long relationship with my patient and her family," said Dr. Teplinsky. "My goal is to make sure that patients feel supported and comfortable, both medically and emotionally, from treatment through survivorship. This work is my passion and I am truly humbled by the trust that my patients place in me."
Dr. Teplinsky is interested in medical research with a focus on clinical trials and drug development. In addition, she is fluent in Russian.
To make an appointment with Dr. Teplinsky, please call 201-634-5578. To learn more about oncology services at Valley, please visit http://www.valleyhealthcancercenter.com/