December 27, 2022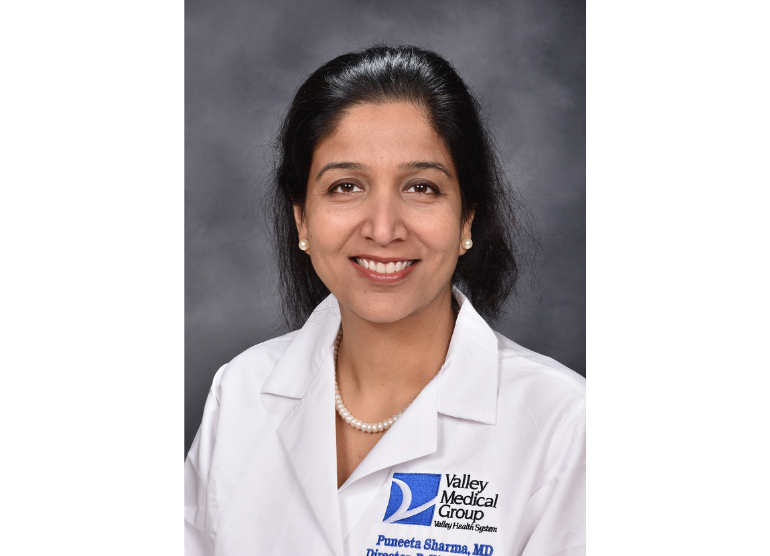 Valley Medical Group (VMG) is pleased to announce Puneeta Sharma, MD, as its new Chief Medical Officer.
As the senior medical administrator in Valley Medical Group, Dr. Sharma will be responsible for improving patient care and medical outcomes as well as the optimization of resources in the medical group, and will be responsible for the performance of over 445 providers.
Dr. Sharma joined Valley Medical Group as the Director of Palliative Care in 2017. Two years later, in 2019, she was promoted to Chair of Medical Specialties. In this previous role, Dr. Sharma oversaw various specialties, including pulmonary critical care, dermatology, and rheumatology.
"In just a few years, Dr. Sharma has made an important and lasting impact on Valley Medical Group, and we are excited to appoint her our new Chief Medical Officer," said Julie Karcher, Senior Vice President of Valley Health System and Valley Medical Group. "Some of the new clinical services that Dr. Sharma has helped introduce over the past few years include a new behavioral health program, ambulatory physical medicine and rehabilitation program, and the Care After COVID-19 program. She has also led efforts to introduce key performance metrics that allow us to benchmark ourselves against best practices in the industry"
Dr. Sharma recently earned a master's degree in Health Care Management at the Harvard T.H. Chan School of Public Health. She received her medical degree from Karnatak Medical College. She is board certified in internal medicine with a subspecialty certification in hospice and palliative medicine.