October 8, 2017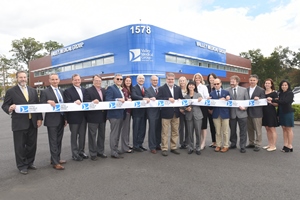 Valley Medical Group recently celebrated the opening of a new urgent care and multispecialty medical practice located at 1578 Route 23 North in Wayne.  The 30,000-square-foot facility will feature doctors and services in a variety of medical specialties including primary care, cardiology, electrophysiology, endocrinology, maternal-fetal medicine, obstetrics/gynecology, pulmonology and rheumatology.  Diagnostic imaging services will also be available.
Services are being introduced in a phased-in approach.  Please go to www.ValleyMedicalGroup.com/Wayne for the latest information and a listing of the physicians who will be providing care.
Photo Caption:
Trustees, doctors, and staff from Valley Medical Group's new location on Route 23 North in Wayne cut the ribbon on a new urgent care and multispecialty practice.  Joining Valley is Wayne Mayor Christopher Vergano (center) along with Valley Health System President and CEO Audrey Meyers (holding ribbon next to Mr. Vergano, Valley Medical Group President Marc Goldstein (to Mr. Vergano's right), and Valley Medical Group Chief Operating Officer Jean Flanagan (to Ms. Meyers' left).