March 15, 2017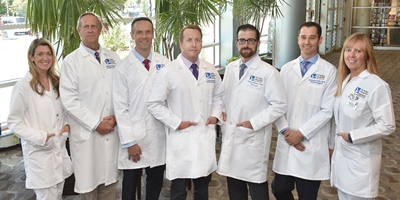 The Valley Hospital is pleased to be one of the first hospitals in the United States to offer the Leksell Gamma Knife Icon -- noninvasive, radiosurgical technology for the treatment of benign and malignant brain tumors and neurological conditions in the brain.
The Gamma Knife Icon enables Valley's neuro-oncology team to treat virtually any location in the brain with ultrahigh precision, minimal effect to healthy tissue and, for select patients, an alternative to the head frame used in most gamma knife treatments.
Patients with certain types of benign and malignant brain tumors or patients whose medical conditions preclude surgery may benefit from Gamma Knife Icon treatment.  The technology is used by Valley's treatment team to perform stereotactic radiosurgery, a non-invasive, outpatient option that often replaces the need for whole brain radiation therapy.
"Gamma Knife technology is the only platform of its type that is strictly designed for treating the brain, and has more than 40 years of research data attesting to its success," says neurosurgeon Anthony D'Ambrosio, M.D., Co-Director of The Gamma Knife Center, located at Valley's Luckow Pavilion in Paramus. "The Icon pinpoints the exact area of the brain that requires treatment, so the patient avoids radiation exposure to critical structures in the brain. The Icon is the very latest Gamma Knife technology."
Valley's Gamma Knife Center opened in 2011 with the Perfexion system.  The Icon replaces the Perfexion and is a major technological upgrade.  During Icon treatment, up to 192 radiation beams are precisely directed to one or several intracranial lesions. The source of radiation is cobalt, and the shape and dose of the radiation is optimized to focus on the exact point desired with little to virtually no damage to healthy tissue or nearby critical structures.
Says Chad DeYoung, M.D, Co-Director of the Gamma Knife Center:  "Intracranial treatments demand exceptional precision. Gamma Knife technology offers unparalleled accuracy in even the most critical, difficult-to-access areas of the brain while sparing healthy normal brain tissue. The Icon has additional features that enable treatment of previously challenging tumors, including large lesions or those abutting very sensitive areas such as the optic chiasm (an area
in the brain where nerves to the eyes cross over each other)."
Continues Dr. DeYoung: "The Gamma Knife Icon focuses powerful doses of concentrated radiation that attack tumors and abnormalities, shrinking them over time or stopping their growth altogether."
Features such as advanced motion management and imaging capabilities enable frameless (mask-based) treatments for select Icon patients.  The Icon also provides the flexibility for single dose administration or a fractionated approach (multiple sessions over time), which can enable treatment of larger tumors, those close to critical brain structures and new or recurring brain metastases. In short, multi-fraction and mask-based radiosurgery with the Icon expands the range of treatment possibilities allowing more patients to be treated than with the previous Perfexion model.
The Gamma Knife is not a "knife" at all, and no incisions are made.  There is no overnight stay in the hospital or extended recuperation period. "It offers the precision of surgery without a scalpel and without the usual risks of surgery or an incision," says Dr. D'Ambrosio.
Traditional brain surgery can lead to complications such as hemorrhage, infection, facial nerve damage and cognitive issues.  Recent studies show that whole brain radiation, which targets wide areas of the brain and is often used to treat multiple tumors, can result in significant cognitive problems, such as dementia.  Treating patients with Gamma Knife can minimize these potentially devastating side effects.  Unlike other treatments, Gamma Knife:
•    involves no incisions, so there is no surgical trauma to the brain.
•    can be utilized in hard-to-treat or inoperable cases — for instance, when tumors lie deep within the brain — or in those cases where illness or advanced age preclude surgery.
•    is very targeted, so there is little to virtually no damage to surrounding tissue or nearby structures.
•    requires no general anesthesia, eliminating the risk of anesthesia-related side effects.
•    is usually performed in a single session and in an outpatient setting, eliminating lengthy hospital stays.
•    results in little to no patient discomfort and patients can return to their normal activity in a day.
Conditions treated by the Icon are numerous and include: 

•    acoustic neuromas
•    arteriovenous malformations (AVM)
•    brain metastases
•    craniopharyngiomas
•    gliomas
•    meningiomas
•    pineal tumors
•    pituitary tumors
•    skullbase tumors
•    trigeminal neuralgia/tic douloureux (facial pain) 
 
"The safety and effectiveness of the Gamma Knife have been proven in hundreds of studies since its inception in 1968," says Dr. D'Ambrosio.  "Since the opening of our Center more than five years ago, hundreds of patients have been successfully treated for a variety of brain conditions including primary brain cancer, cancer that has metastasized to the brain, benign conditions and trigeminal neuralgia."
Valley's Gamma Knife Center offers another important distinction:  the availability of experienced nurse navigators to answer patients' questions and guide them through every step in the treatment process.
For more information about Gamma Knife radiosurgery, to request a physician consultation, or discuss a second opinion with a nurse navigator, call the Gamma Knife Center at 201-634-5677 or complete the contact form at www.ValleyGammaKnife.com.
Caption:  Valley's Gamma Knife Center team.