April 30, 2018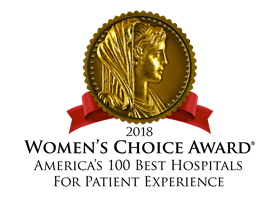 The Valley Hospital has earned the 2018 Women's Choice Award as one of America's 100 Best Hospitals for Patient Experience for a sixth consecutive year. Valley is one of 400 award recipients representing hospitals of similar size that have met the highest standards for patient experience in the U.S. 
"We are proud to once again be recognized as one of the nation's Best Hospitals for Patient Experience," said Audrey Meyers, President and CEO of The Valley Hospital and Valley Health System. "This distinction reflects Valley's commitment and dedication to providing exceptional care and service to all patients, including women and their families."
The Women's Choice Award collects the data for the following Hospital Consumer Assessment of Healthcare Providers and Systems (HCAHPS) survey measures and uses a weighted average to award the Best Hospitals for Patient Experience:
•    Effective communication with nurses and doctors
•    Responsiveness to requests for help
•    Pain management
•    Explanation about medications before being administered
•    Bathroom and room cleanliness 
•    Patient recommendation ratings
"This hospital was awarded because it is one of the best at treating their patients the way their patients want to be treated," said Delia Passi, founder and CEO of the Women's Choice Award.  "Hospital choice is a critical decision, particularly for women, who make over 80 percent of healthcare decisions. Our designation makes it easier for them to choose a hospital where they and their families are more likely to have a better experience and outcome."
For more information on the 2018 America's 100 Best Hospitals for Patient Experience, visit https://www.womenschoiceaward.com/best-hospitals/.