June 18, 2017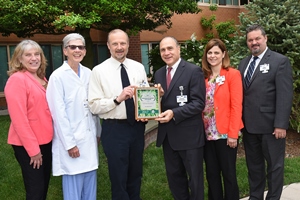 In recognition for successful programs to reduce their environmental impact, The Valley Hospital received the Partner for Change Award from Practice Greenhealth, the nation's leading organization dedicated to environmental sustainability in health care. The Practice Greenhealth Partner for Change Award honors superior performance in environmental stewardship. The award is one of the Environmental Excellence Awards given each year to honor environmental achievements in the health care sector.
The Partner for Change Award recognizes health care facilities that continuously improve and expand upon programs to eliminate mercury, reduce and recycle waste, source products sustainably, and more. Winning facilities must demonstrate that they are recycling at least 15 percent of their total waste, have reduced regulated medical waste, are on track to eliminate mercury, and have developed successful sustainability programs in many areas.
Valley is committed to minimizing its impact on the environment through sustainability initiatives such as the storage and collection of recyclables, construction and demolition waste management planning, bicycle facilities, electric vehicle charging stations, Styrofoam recycling, and the use of LED lights. In addition, Valley participates in MedShare, which donates excess medical products to hospitals and clinics throughout the world.
The hospital is also committed to environmentally preferable purchasing, which includes green cleaning products, mercury-free purchasing, locally grown foods, tree-free paper products (made from materials such as bagasse, bamboo, and wheat straw), and patient slippers made from recycled products.
"As a repeat Practice Greenhealth Partner for Change Award winner, The Valley Hospital reaffirms its commitment to improving the health of our patients, staff, and community as a whole," said Leonard Guglielmo, Assistant Vice President, Facilities, and Chief Supply Chain Officer, The Valley Hospital. "We continue to take pride in our sustainability efforts to lessen our impact on the environment, and we appreciate the acknowledgment from Practice GreenHealth, with whom we look forward to continuing this meaningful work."  
The award was presented at the Practice Greenhealth Environmental Excellence Awards Gala, set for May 18th in Minneapolis, Minn. at the conclusion of the CleanMed Conference & Exhibition. 
Caption: From left: Michele Mitchell, Manager, Facilities; Nancy Juelis, Manager, Operating Room Business Services; Howard Halverson, Director, Environmental Services; Leonard Guglielmo, Assistant Vice President, Facilities, and Chief Supply Chain Officer, The Valley Hospital; Dawn Cascio, Director, Food and Nutrition; and Edo Volaric, Director, Engineering/Maintenance.