March 18, 2019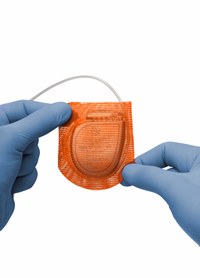 The trial showed that an antibacterial envelope significantly reduces major infections in patients receiving pacemakers and implanted defibrillators. 
The Valley Hospital participated in a landmark clinical trial that evaluated the ability of a novel, fully absorbable antibacterial envelope – the Medtronic TYRX™ Absorbable Antibacterial Envelope – to reduce infections associated with cardiac implantable electronic devices (CIEDs). The study found positive results and demonstrated that the envelope reduced the risk of major infection by 40 percent, and pocket infection by 61 percent, in patients at increased risk for infections receiving CIEDs, compared to standard-of-care pre-operative antibiotics. 
The trial results were recently presented in a late-breaking session at the American College of Cardiology's 68th Annual Scientific Sessions and published in The New England Journal of Medicine. Suneet Mittal, M.D., FACC, FHRS, Director, Electrophysiology, Valley Medical Group; Associate Chair, Cardiovascular Services, Valley Medical Group; Medical Director, The Snyder Center for Comprehensive Atrial Fibrillation, The Valley Hospital; and Director, Cardiac Research, Valley Health System, is one of the authors on the manuscript just published in the New England Journal of Medicine and served on the steering committee of the WRAP-IT trial.
"I am proud to work for an organization that is participating in such high-impact clinical research. The robust trial included a total of 6,983 patients and its clinically significant data will inform practice for the foreseeable future," says Dr. Mittal. "I take this opportunity to thank my electrophysiology partners, Advay Bhatt, M.D., Dan Musat, M.D., Mark Preminger, M.D., and Tina Sichrovksy, M.D.; the cardiologists who have allowed us to enroll into the trial; Kimberly Michel, RN, Clinical Trials Nurse; and Kathleen Sayles and her entire clinical trials team here at Valley. Each stakeholder played a crucial role in this significant study."
The trial met its primary objective, showing effectiveness of the TYRX envelope in reducing major infections by 40 percent (p=0.04), and reducing pocket infections by 61 percent (p<0.01) in patients at increased risk for infections resulting from CIED implantation. The trial also met its safety objective: the envelope did not increase the risk of procedure-related or system-related complications through 12 months (p<0.001 for non-inferiority). 
Millions of people with heart conditions receive a CIED, such as a pacemaker, implantable cardioverter defibrillator (ICD) or cardiac resynchronization therapy (CRT) device, to help manage abnormal heart rhythms. As with any surgical procedure, there is risk for infection due to bacteria being introduced at the time of implant. These infections occur in 1-4 percent of all patients receiving CIED implants1,2 and are associated with substantially increased morbidity, mortality, and cost: the average cost per infection ranges from $44,000-$83,000.3-7
The World-wide Randomized Antibiotic Envelope Infection Prevention Trial (WRAP-IT) 
WRAP-IT is the largest, randomized, prospective, multicenter, single-blinded, post-market, interventional, global CIED trial. It compared the incidence of major infections in patients whose CIED implantation included the TYRX envelope and patients whose procedure did not. Patients in the trial were followed for a minimum of 12 months. The trial was sponsored by Medtronic.
The study was conducted in 181 centers in 25 countries in North America, Europe, Asia and South America, and included 776 implanters. A total of 7,075 patients were enrolled from January 2015 through July 2017: 6,983 patients were randomized, with 3,495 receiving the TYRX envelope, and 3,488 randomized to the control group (without the envelope).
About the TYRX™ Absorbable Antibacterial Envelope
The TYRX Absorbable Antibacterial Envelope is a mesh envelope that holds an implantable cardiac device or implantable neurostimulator. It is designed to stabilize the device after implantation while releasing antibacterial agents, minocycline and rifampin, over a minimum of seven days.8 The TYRX envelope is fully absorbed into the body approximately nine weeks after implantation. 8,9 The TYRX Envelope was cleared by the FDA in 2013 and received CE Mark in 2014. 
About The Valley Hospital 
The Valley Hospital, a 431-bed, acute care, not-for-profit hospital located in Ridgewood, NJ, is part of Valley Health System, which also includes Valley Home Care and Valley Medical Group. Valley is the recipient of numerous awards and recognitions, including the Gold Seals of Approval from The Joint Commission in 8 clinical areas. Valley has been recognized by Healthgrades wth the America's 250 Best Hospitals Award™; as one of America's 100 Best Hospitals Awards in the areas of Stroke Care, General Surgery and Gastrointestinal Care; and with Excellence Awards for Neurosciences, Cranial Neurosurgery, Stroke Care, Gastrointestinal Care, General Surgery and Critical Care.  Valley has also held Magnet® recognition – the nursing profession's highest honor awarded by the American Nurses Credentialing Center – since 2003. Valley is a cardiovascular affiliate of the Cleveland Clinic Heart and Vascular Institute, and an academic and clinical affiliate of the Mount Sinai Health System. Key services include cardiology, oncology, women's and children's services, emergency care, orthopedics and neurosciences.
1 Tarakji KG, et al. Am Heart J. 2016;180:12
2  Data on file for aggregated infection rate.
3 Sohail MR, et al. Circ ArrhythmElectrophysiol. 2016;9:e003929.
4 Greenspon AJ, et al. Pacing Clin Electrophysiol. 2018;41:495-503.
5 2012 Premier Healthcare Database, data on file with Medtronic plc.
6 2014-15 Medicare 100% Standard Analytic File (SAF), data on file with Medtronic plc.
7 CPI 2016 Detailed Report: CPI1612. Assessed March 2018.
8 Huntingdon Life Sciences Study TR-2013-001.
9 Sinclair Labs Study D13599.
Caption: The Valley Hospital participated in a landmark clinical trial evaluating the Medtronic TYRX™ Absorbable Antibacterial Envelope's ability to reduce infections associated with cardiac implantable electronic devices (CIEDs).