October 18, 2018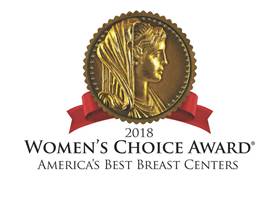 For a fifth consecutive year, The Valley Hospital has earned the Women's Choice Award® as one of America's Best Breast Centers, acknowledging its dedication to providing exceptional patient care and treatment. This recognition places Valley in the top 8 percent of U.S. hospitals offering breast care services.
According to the American Cancer Society, about 1 in 8 women in the U.S. will develop invasive breast cancer during their lifetime, and it is the second leading cause of cancer death in women.
"We are proud to be recognized as one of the nation's best hospitals for breast care," said Audrey Meyers, President and CEO of The Valley Hospital and Valley Health System. "It's a testament to the priority our Breast Center physicians, nurses and staff place on delivering clinical excellence as well as personalized patient experiences that exceed standard expectations." 
Breast Centers that hold the Women's Choice Award® as one of America's Best Breast Centers have met the highest standards of breast care in the nation as set by the National Accreditation Program for Breast Centers (NAPBC) and carry the Breast Imaging Center of Excellence (BICOE) seal from the American College of Radiology. The methodology used to select The Valley Hospital as one of America's Best Breast Centers is unique in that it evaluates Hospital Consumer Assessment of Healthcare Providers and Systems (HCAHPS) survey results along with primary research about women's healthcare preferences. 
"By identifying America's Best Breast Centers, we're helping women find the top accredited centers in their communities," said Delia Passi, founder and CEO of the Women's Choice Award.
The Valley Hospital Breast Center offers all breast screening and diagnostic services in one convenient location at the hospital. The Center offers flexible appointments, including some evening and Saturday hours, to make it easier to schedule a yearly mammogram. Its multidisciplinary team of experienced physicians, technologists and support professionals coordinate all aspects of a woman's breast care. To schedule an appointment for a mammogram, please call 201-447-8200.