June 6, 2018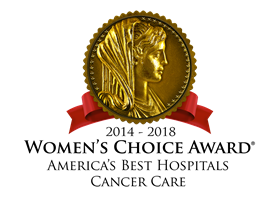 For a fifth consecutive year, The Valley Hospital has been named a Women's Choice Award® recipient as one of America's Best Hospitals for Cancer Care, acknowledging Valley's dedication to providing exceptional patient care and cancer treatment care for women and their families.
Valley is one of only 452 hospitals nationwide that have earned the 2018 Women's Choice Award® by meeting the highest cancer care accreditation standards of the American College of Surgeons Commission on Cancer, demonstrating excellence in clinical performance with regard to patient safety measures, and having a high recommendation rate. 
"We are honored to be recognized as one of the nation's best hospitals for cancer care for the fifth consecutive year," said Audrey Meyers, President and CEO of The Valley Hospital and Valley Health System. "Valley-Mount Sinai Comprehensive Cancer Care, a partnership between The Valley Hospital and Mount Sinai Health System, continues to develop new and enhanced inpatient and outpatient services. This award affirms our ability to consistently deliver compassionate, world-class cancer care to our patients within the scope of a wider, integrated network."
To be considered for the award, a hospital must be designated by the American College of Surgeons' Commission on Cancer Classification (ACS CoC) as one of four specific types of cancer programs. The Women's Choice Award measures hospitals on the presence of specific cancer-related services offered onsite, infection rates and patient recommendation ratings on the Hospital Consumer Assessment of Healthcare Providers and Systems (HCAHPS) survey. The award is unique in that criteria also include primary research about women's healthcare preferences.
Delia Passi, Founder and CEO of the Women's Choice Award, emphasized that Valley and all other hospital and facility recipients of this 2018 recognition deliver on the care that matters most to women. "In addition to our award winners' high-level performance on a national level, they provide the care that women value most, including easily accessible services onsite to avoid multiple trips for their treatment, which is so important to women faced with a cancer diagnosis," stated Passi.