October 17, 2023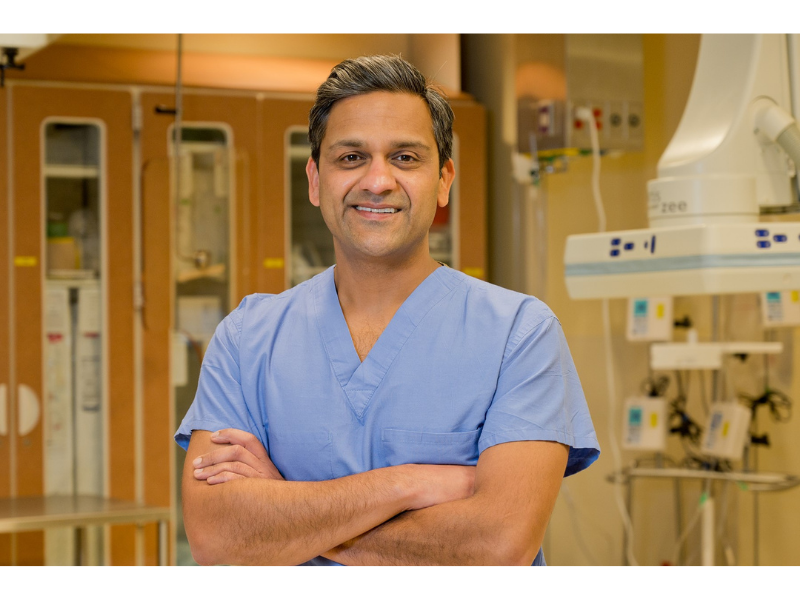 The Valley Hospital cardiac team is launching a clinical trial to evaluate transcatheter aortic valve replacement using the Edwards SAPIEN valve platform in patients with moderate, calcific aortic stenosis.
Calcific aortic stenosis (AS) occurs when calcium builds up inside the aortic valve and causes the opening of the valve to become smaller, preventing it from opening and shutting properly. Patients with moderate, calcific AS may or may not experience fatigue, shortness of breath, chest pain, and rapid heartbeat.
The current treatment for patients with moderate AS is careful observation, or clinical surveillance. Clinical surveillance involves prescribing a regimen of medications accompanied by physician visits every 1-2 years. Valve replacement is currently not recommended until aortic stenosis progresses to a severe state. However, some patients with moderate aortic stenosis and added risk factors may or may not benefit from having their aortic valve replaced.
The PROGRESS study, led by Rajiv Tayal, MD, Director of the Cardiac Catheterization Laboratory and the Structural Heart Program at The Valley Hospital, will examine the transcatheter aortic valve replacement (TAVR) procedure versus careful clinical surveillance in patients with moderate, calcific aortic stenosis. TAVR is a minimally invasive procedure that uses a catheter to implant a new valve within the diseased valve. The TAVR procedure is most commonly performed through a small incision in the groin.
Patients who qualify for the PROGRESS trial will be randomized between TAVR with the Edwards SAPIEN valve platform and clinical surveillance. This means that patients have a 50/50 chance of being in the TAVR group or the clinical surveillance group. If you are assigned to the clinical surveillance group and your aortic stenosis worsens, your doctor will determine the best treatment option for you – which can include valve replacement.
The purpose of the trial is to compare results of patients who have their valves replaced at a moderate level of disease versus patients that have their disease monitored.
"With our participation in the PROGRESS trial, we can help determine if TAVR is a reasonable treatment option for those with moderate AS. The goal of this study is to discover if earlier interventions can lead to health improvements in patients by stopping or preventing the worsening of damage to the heart," said Dr. Tayal. "Our cardiac team, whose expertise is in minimally invasive transcatheter valve repair, is excited to have been chosen for this study."
Patients interested in participating in the study should call 201-447-8453. 
For additional details on the study, visit thePROGRESStrial.com or go to clinicaltrials.gov.
For more information about heart care at The Valley Hospital, please visit ValleyHealth.com/Heart.