May 29, 2018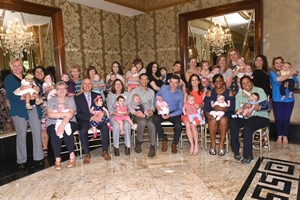 The Valley Hospital Fertility Center recently hosted its annual Baby Jubilee to celebrate the all of the babies born since the program's inception.  
The event, which was held at Seasons in Washington Township, offers parents the chance to enjoy an informal reunion with the Center's doctors, nurses and staff who helped them achieve their dreams of parenthood, as well as an opportunity to socialize with other parents of children born following treatment at Valley's Fertility Center. 
On hand (seated, starting second from left) were Peter Jarosz, Director, Outpatient Women/Children's Services; Joan Andrito, Practice Manager, The Valley Hospital Fertility Center;  Dehan Chen, M.D., Associate Clinical Director; Ali Nasseri, M.D., Ph.D., Medical Director; and Keri L. Greenseid, M.D., Staff Physician. The physicians were joined by members of the Fertility Center's staff and some of the young guests in attendance.