July 23, 2017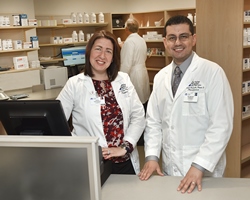 The Valley Hospital announces the opening of its second retail pharmacy, located on the first floor of the hospital at 223 North Van Dien Avenue in Ridgewood. The hospital's first "Valley Health Pharmacy" opened in 2002 in Paramus at Valley's Robert and Audrey Luckow Pavilion.
The new location, called "Valley Health Pharmacy: The Valley Hospital" will enable hospitalized patients to have their prescriptions filled before leaving the hospital, providing a welcome convenience of time and effort for patients and their families. It also means many patients can begin adhering to their medication regimen immediately following discharge from Valley. All hospitals in the U.S. are striving to reduce their "30 day readmission rate," a new Medicare program that financially penalizes hospitals whose readmissions are above the standard set by the program. Prompt disbursement of medications to patients is one action hospitals can take to help ensure patients are promptly on the road to recovery after discharge.
Valley's patients will have the option of picking up their prescriptions as they are exiting the hospital, or they can be delivered to the bedside in the moments preceding discharge. The pharmacy will also offer some durable medical equipment such as canes and crutches.
The new location's pharmacists are Gita Natovich, Pharm.D., and Raymond Hawash, Pharm.D.  Both pharmacists are graduates of Arnold and Marie Schwartz College of Pharmacy at Long Island University. They each bring almost 15 years of pharmacy experience and have spent the last year with us at Valley Health Pharmacy located in Paramus.
The pharmacy is open seven days a week: Monday through Saturday from 8 a.m. to 8 p.m., and Sunday from 8 a.m. to 4:30 p.m. 
While the primary focus of the new pharmacy is to service Valley's patients, individuals from the community and employees can also drop of their prescriptions.
A third retail pharmacy is planned for Valley's Center for Health and Wellness, due to open in early 2018 in Mahwah.
For more information, please call 201-447-8434.
Caption:  Pharmacists Gita Natovich, Pharm.D., and Raymond Hawash, Pharm.D., at Valley's new pharmacy on the hospital's first floor.