May 14, 2018
Valley Health System is pleased to announce the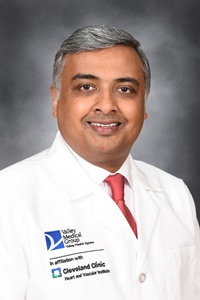 establishment of a new Cardiovascular Imaging Program at The Valley Heart and Vascular Institute and the appointment of cardiologist and cardiovascular imaging specialist Himanshu Gupta, M.D., FACC, as Director.
The goal of Valley's new Cardiovascular Imaging Program is to provide quality-focused, integrated care to patients and their families that incorporates the latest advances in cardiovascular imaging, clinical research and education in conjunction with Valley's Diagnostic Imaging department. As the Program's Director, Dr. Gupta will spearhead the integration of these imaging technologies into Valley's rapidly growing preventive cardiology, structural heart disease, cardiothoracic surgery and electrophysiology programs. 
One of Dr. Gupta's main areas of focus is collaboration with Valley's many cardiac specialists and radiologists to provide early diagnosis of cardiac conditions and to render the best possible outcome for patients.
"Instead of being strictly modality-oriented, we are working together to create individualized treatment plans for our patients that cross the many different cardiac services and specialties that Valley offers," says Dr. Gupta. "From interventional cardiology to electrophysiology and preventive cardiology to cardiovascular surgery, patients will benefit from our team approach to providing optimal care."
Valley's affiliation with Cleveland Clinic's Sydell and Arnold Miller Family Heart and Vascular Institute, the nation's No. 1 ranked heart care facility, provides opportunities for Dr. Gupta and other Valley cardiac physicians to share knowledge, expertise and best practices. The Valley-Cleveland Clinic affiliation combines academic, clinical and research components of both organizations.
Dr. Gupta completed his medical degree at the University of Delhi in New Delhi, India, followed by an internal medicine residency at Wayne State University in Detroit. He went on to complete a four-year combined National Institute of Health (NIH) supported fellowship in cardiovascular medicine and imaging at the University of Alabama at Birmingham (UAB), where he served as a chief fellow. 
Dr. Gupta led the advanced imaging efforts at UAB where he served as the Co-Director of the Cardiovascular Magnetic Resonance Center. He was a tenured faculty member at the UAB Departments of Medicine and Radiology and served as a scientist for the UAB Comprehensive Cardiovascular Center. Dr. Gupta held clinical appointments at UAB Health System, Kirklin Clinic and The VA Medical Center. He also established an advanced cardiovascular imaging program at Brookwood Baptist Health System in Birmingham. 
Dr. Gupta has conducted innovative research in preventive cardiology, valvular heart disease, pulmonary hypertension and diastolic heart failure with numerous original publications in high-impact journals, and the NIH has consistently funded his research and program development. He was instrumental in the successful NIH-sponsored, multimillion-dollar Heart Failure Specialized Centers of Clinically Oriented Research (SCCOR) grant at UAB. Dr. Gupta's fundamental research has led to the development of novel, non-invasive approaches to evaluating diastolic dysfunction, a major cause for heart failure, as well as a non-invasive surrogate for pulmonary artery impedance, which is crucial for early diagnosis of pulmonary hypertension. He currently holds two fully executed patents and one provisional patent for his research. He also serves as Associate Editor for Frontiers in Cardiovascular Medicine.
Dr. Gupta is board certified by the American Board of Internal Medicine (ABIM) in Cardiovascular Medicine and is a Diplomate of the Certification Board of Cardiovascular Computed Tomography (CBCCT), Certification Board of Nuclear Cardiology (CBNC) and National Board of Echocardiography (NBE). He has the highest-level training in cardiovascular MRI.
To contact Dr. Gupta, please call 201-432-7837. To find a Valley-affiliated cardiac doctor, visit www.ValleyMedicalStaff.com.