November 1, 2019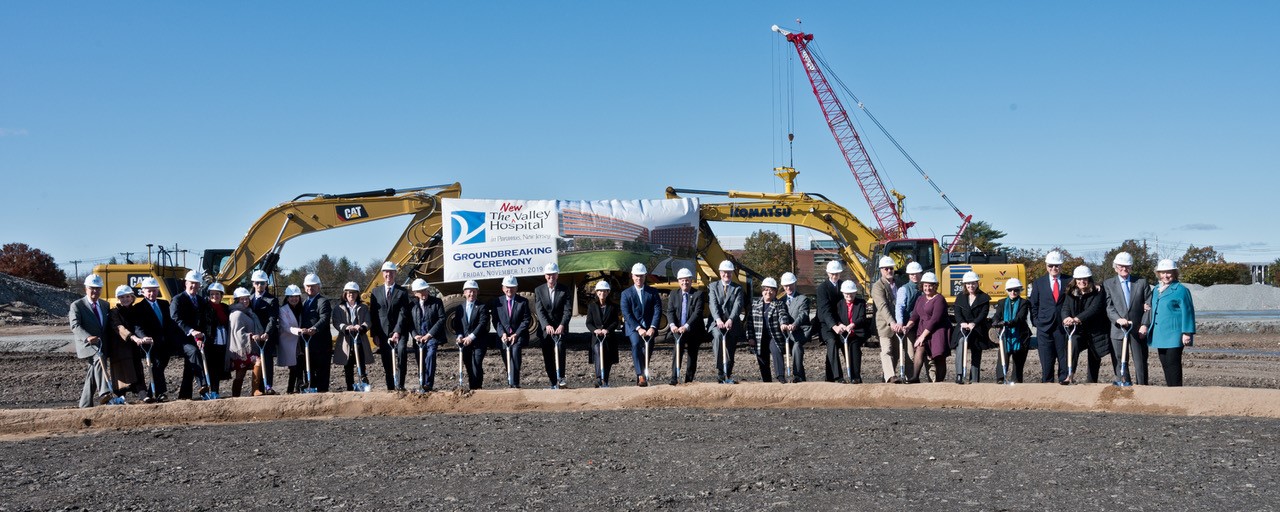 Donning hard hats and carrying shovels, Valley Health System leadership; philanthropic supporters; community members; and federal, state and local elected officials came together on Friday, November 1, to break ground on The Valley Hospital's new, state-of-the-art, 372-bed healthcare facility in Paramus.
New Jersey Governor Phil Murphy, U.S. Senator Robert Menendez, U.S. Representatives Josh Gottheimer and Bill Pascrell, Bergen County Executive James Tedesco and Paramus Mayor Richard LaBarbiera were among the elected officials on hand to show their support for the new hospital.
"As we celebrate the groundbreaking of the new hospital, we are also proud to affirm our commitment to providing groundbreaking care," said Audrey Meyers, President and CEO of The Valley Hospital and Valley Health System. "The design of the new hospital will enhance our ability to deliver high-quality care and service, with the personal touch for which Valley is so well known." 
The new Valley Hospital, which was first announced in 2017, will be located on Winters Avenue in Paramus, just 2.5 miles from Valley's current campus in Ridgewood. It will incorporate the latest innovations and best practices in modern healthcare facility design, with all single-patient rooms to enhance patient privacy, safety and comfort. 
The plans for the new hospital also call for the creation of universally sized rooms for surgery and procedures. These rooms will be designed to accommodate the latest high-tech, minimally invasive robotic surgeries and interventional procedures with the flexibility to adapt to different purposes over time. 
From the beginning of planning the new hospital, Valley has also made a strong commitment to incorporate environmentally sustainable practices into the construction, operation and maintenance of the new facility, with 20 percent of the site dedicated to open, green space. The facility will incorporate green roofs, which involves growing plants on the facility's rooftops, to reduce storm water runoff, improve energy efficiency, and enhance the overall look of the hospital for patients and neighbors.
"This new hospital will allow us to raise the bar in all that we do," said Meyers. "It will revolutionize how we deliver extraordinary healthcare, strengthen our ability to help people in our community live healthier lives, and provide the flexibility necessary to adapt to changes in healthcare delivery." 
David Bohan, Vice President and Chief Development Officer, The Valley Hospital Foundation, thanked the leadership donors — those who provided significant early support for the project — who as of the groundbreaking had generously donated more than $60 million in support of the new hospital. "We will continue to count on families, community leaders, and organizations to provide philanthropic support for this vital project," Bohan said. "Each dollar is a vote for Valley's future in this region."
"We are extremely proud that for close to 70 years Valley has a distinguished legacy of serving and caring for our community," said Frank Sheehy, Vice Chairman of the Valley Health System Board of Trustees. "Today, we build on that legacy by beginning a new and important chapter right here in Paramus."
"When The Valley Hospital opens its doors in Paramus, it will provide access to outstanding healthcare and will benefit everyone who calls Paramus home – families, children, seniors, and our business community," said Paramus Mayor Rich LaBarbiera. "The new hospital will be an economic engine for our entire community – revitalizing an aging, industrial section of our town, helping homeowners by diversifying our commercial tax base, and transforming Paramus into the healthcare hub of the state. That is why I have proudly supported this project from the beginning."
"I applaud your commitment to The Valley Hospital's legacy of delivering high-quality and compassionate health care," said NJ Governor Phil Murphy. "You don't reach milestones like this by accident. You achieve them through constant progress and consistent performance. You achieve them through visionary leadership. You achieve them by having a generous philanthropic community and equally committed local officials and community leaders, all of whom understand the value and importance of a hospital to the families it serves. In each of these areas, Valley has it, and then some."
"Today is a good day for everyone committed to building a healthier community and providing New Jerseyans with top-notch medical care," said U.S. Sen. Bob Menendez, a senior member of the Senate Finance Committee that sets national health policy. "For families, the value of having access to top-notch medical care so close cannot be overstated. Whether you're a parent with a child running a high fever in the middle of the night or a patient in need of expertise when faced with a difficult diagnosis, it means a great deal to have a trusted provider like Valley Hospital as your neighbor. And beyond expanding access to high-quality care, today's groundbreaking is a big win for Paramus and for jobs in our local economy."
"I am excited about the potential for Valley's new, modern hospital to transform care for our residents and bolster our economy by supporting local businesses and bringing good jobs to northern New Jersey," said Representative Gottheimer.
"This facility will serve North Jersey very well. The positive effects of adding a state-of-the-art hospital are profound, in the form of creating thousands of jobs as well as stimulating our local economy," said Rep. Bill Pascrell, Jr., a longtime champion of increased health care options and services. "But most important, expanding on its existing roots in Paramus, Valley will provide for the unique needs of our community. Its very presence will increase access to high-quality healthcare programs and services for local residents. Because at the end of the day, nothing is more vital than our health and the health of our families, and this hospital will do so much to provide that future."
"This is a milestone day for Bergen County," said County Executive Tedesco. "Valley's commitment to the community has been unwavering, and this exciting project will not only provide greater access to healthcare for the residents of Bergen County, but will also strengthen our local economy by creating new jobs. Bergen County is well on its way to becoming the healthcare hub of the state."
The new hospital will be the centerpiece of Valley's healthcare campus in Paramus. On the western side of Winters Ave. are the Robert & Audrey Luckow Pavilion (which houses the hospital's comprehensive cancer and same-day-surgery centers) and the former Children's Museum. A campus on the eastern side of Winters Ave. will include the new hospital building, a parking garage and 140 E. Ridgewood Ave, which houses women's and children's services. The combined campuses equal 39.59 acres total land area.  
Moving inpatient and emergency services to Paramus will allow Valley to repurpose its current campus in Ridgewood for a broad range of healthcare services, including an urgent-care center, and laboratory, radiology and endoscopy services. In addition, Valley plans to consolidate existing ambulatory and outpatient services and health system business functions back to the Ridgewood campus.
The new facility will cost an estimated $800 million and will be funded through the issuance of bonds, hospital equity, and philanthropic contributions. Valley anticipates that the new hospital could open as early as 2023.

Photo caption: (Left to Right) Elias Tsoukas, M.D.; Martha and Peter Marron; Jim and Nancy Bush; Stefanie and Adam Hawkinson; Audrey and Bob Luckow; Ellen Forlenza; Frank Sheehy, Vice Chairman, Valley Health System Board of Trustees; U.S. Representative Bill Pascrell; U.S Representative Josh Gottheimer; U.S. Senator Robert Menendez; New Jersey Governor Phil Murphy; Audrey Meyers, President and CEO, The Valley Hospital and Valley Health System; Paramus Mayor Richard LaBarbiera; Bergen County Executive James Tedesco, III; David Bohan, Vice President and Chief Development Officer, The Valley Hospital Foundation; Sue and Victor D. Wortmann, Chairman, The Valley Hospital Foundation Board of Trustees; Charlie and Sue Snyder; J. T., Theo, and Bevin Bolger; Jean Meloro, President of The Valley Hospital Auxiliary; Marilyn Clark; Bob and Carol Gillespie; Joe and Lya Pfeifer.