November 13, 2017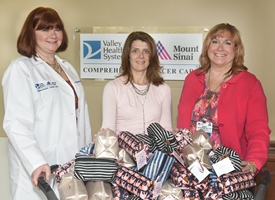 In honor of Breast Cancer Awareness Month in October, Meg McCluskey, an independent business owner and stylist for Stella & Dot, organized the second Annual Chemo Care fundraiser to provide support to breast cancer patients undergoing chemotherapy at The Valley Hospital.
McCluskey encouraged her family and friends to donate $27 towards the purchase of a chic Stella & Dot pouf, and 100% of her commission was directed towards filling makeup bags with items aimed to provide comfort.  With the help of Meg's daughter Kaelin's Girl Scout troop 40297, they filled more than 75 of them with socks, lip balm, mints, teabags, lotion and lavender oil, donated by Jenny Watson representing Young Living Essential Oils.
Once again, the young girls wrote personal and inspiring hand written notes to include in each pouf before delivering them to the Infusion Center at Valley-Mount Sinai Comprehensive Cancer Care, located at The Luckow Pavilion in Paramus.
Asked why she chose to focus her fundraising project on breast cancer, Meg explains "We've all been touched by breast cancer in one way or another.  Plus, the women affected by this are my peers – it could be any one of us."  
According to the American Cancer Society, one out of eight women living in the United States has a lifetime risk of being diagnosed with breast cancer.  Also, the median age of diagnosis is 62 years old.
"I just love doing this!" Meg McCluskey continues. "It is so great to witness everyone's eagerness to give to this important cause." Through Facebook and word of mouth, Meg encouraged her circle of friends and family to join her in this project, and was pleasantly surprised by the generous response.
"This was very well received last year, and we're so pleased Meg decided to repeat this again." said Valerie Quigley, BSN, RN, OCN and the Manager at Valley's Infusion Center.  "Our cancer patients really appreciate this very personalized gift, especially the hand-written notes. The inspiration, encouragement and 'don't give up' messages from even an unknown voice mean so very much.  It's important that each of our patients remain hopeful — and know others in our community are rooting for them." 
Valley-Mount Sinai Comprehensive Cancer Care is grateful for these generous donations.  
Photo Caption: Valerie Quigley, BSN, RN, OCN, and the Manager at Valley's Infusion Center, Meg McCluskey, Sandy Balentine, MSN, RN, OCN, Director of Clinical Oncology at Valley-Mount Sinai Comprehensive Cancer Care.