March 19, 2017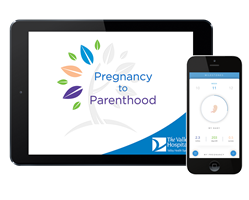 Valley's new Pregnancy to Parenthood app puts Valley's trusted pregnancy and childbirth expertise in the palm of your hand. The free app makes it easy to get ready for baby with all the tools and information you need for pregnancy, childbirth and beyond. Follow your baby's development, manage your prenatal health, and stay connected to Valley's services for moms and babies anytime, anywhere.
The app's features include:
•    Week-by-week updates to track your baby's development
•    Animations and videos
•    Trackers for appointments, contractions, feeding your baby, immunizations and more
•    Everything you need to know about having a baby at Valley's Center for Childbirth
•    Information on Valley's newborn and pediatric services
•    Information about registration and enrollment in parenting classes or programs
The app is available for iOS (Apple) and Android, and can be found in both app stores by searching Valley Childbirth.
"We are so pleased to be able to offer this wonderful new tool to help expectant moms on their journeys to parenthood," said Sharon Tanis, Manager of Family Education at Valley. "It's like having a pregnancy and childbirth educator in your pocket!"
The app can be an important tool for maintaining a healthy pregnancy, too. "By providing this app, we are ensuring that women have access to consistent, medically accurate information throughout their pregnancy," said Sherry Campanelli, Manager of Patient Care Services for the Center for Childbirth's Mother-Baby Unit.