January 1, 2018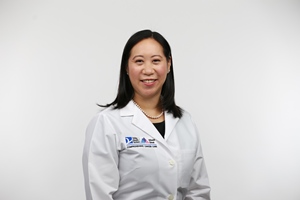 Valley Health System is pleased to announce the appointment of Melanie Ongchin, M.D., as Medical Director, Surgical Oncology at Valley-Mount Sinai Comprehensive Cancer Care. Her appointment became effective on January 1.
Dr. Ongchin is a board-certified surgical oncologist, skilled in all aspects of cancer surgery, most notably minimally invasive and robotic gastrointestinal procedures.  She also has strong experience and expertise in cytoreductive surgery and chemoperfusion for peritoneal disease.  
"I specialize in gastrointestinal malignancies, which include cancers of the stomach, liver, pancreas and intestines," said Dr. Ongchin. "In addition, I see and treat patients with skin and soft tissue malignancies, such as melanomas and sarcomas. I have a particular interest in cancers that have spread throughout the abdomen, and have been trained in performing heated intraperitoneal chemotherapy, or HIPEC, to help treat these rare cancers."
Prior to joining Valley, Dr. Ongchin served as Assistant Professor of Surgery at Weill Cornell Medical College and Attending Surgeon at NewYork Presbyterian, acting as Site Chair for the Department of Surgery at NewYork Presbyterian/Lower Manhattan Hospital.
Dr. Ongchin earned her medical degree from the University of Medicine and Dentistry of New Jersey/New Jersey Medical School and completed her residency at the State University of New York-University of Buffalo.  She completed a year of research at Roswell Park Cancer Institute in the Department of Surgical Oncology in Buffalo, NY, focusing on colorectal cancer.  She completed her fellowship in Surgical Oncology at the University of Pittsburgh and earned a Certificate in Clinical Research at the University's Institute for Clinical Research Education.
Dr. Ongchin's office is located at Valley's Robert & Audrey Luckow Pavilion in Paramus. To make an appointment with Dr. Ongchin please call 201-634-5547.