January 4, 2018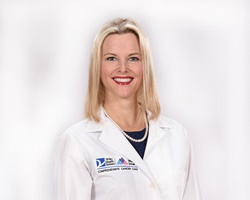 Valley Health System is pleased to announce that Moira Christoudias, M.D, has joined the breast surgery team at Valley-Mount Sinai Comprehensive Cancer Care. Her appointment was effective as of January 1, 2018.
Dr. Christoudias joins Laura Klein, M.D., Medical Director of The Valley Hospital Breast Center, and Tihesha Wilson, M.D., Assistant Director of the Breast Center.
Prior to joining Valley, Dr. Christoudias was on the medical staff at Morristown Medical Center, Morristown, NJ.  She is board certified in general surgery.  Dr. Christoudias received her medical degree from the University of Medicine and Dentistry of New Jersey at Rutgers.  She completed her residency in general surgery at Morristown Medical Center, where she was Chief Resident.  Dr. Christoudias did her fellowship in breast surgery at Bryn Mawr Hospital, Bryn Mawr, PA.
To make an appointment with a member of Valley's breast surgery team, please call 201-634-5557.