June 17, 2018
Valley-Mount Sinai Comprehensive Cancer Care has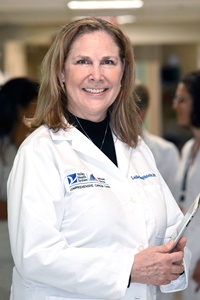 made it easier and more affordable to schedule a colonoscopy to screen for colorectal cancer.  Valley's Fast Track Screening Colonoscopy streamlines the process by eliminating the need for patients to meet with a gastroenterologist for a pre-procedure consultation; they simply come in on the day of their procedure. 
The hope is that by making colonoscopy more accessible and affordable, more patients will opt to be screened. 
"Screening is one of the best tools we have in the fight against colon cancer," notes Haleh Pazwash, M.D., a board-certified gastroenterologist and Director of Gastroenterology in the Department of Medicine at The Valley Hospital.  "If detected early, colon cancer is highly curable, resulting in a five-year survival rate of 90 percent." 
 "Ultimately, the goal is to reduce the number of people afflicted with colorectal cancer through the use of screening colonoscopy, and, thus, save more lives," says Mitchell J. Rubinoff, M.D., a board-certified gastroenterologist and Chair of Gastroenterology for Valley Medical Group.  "It is recommended that all men and women at average risk for colorectal cancer undergo a screening colonoscopy beginning at age 50 or at age 45 for African-Americans due to higher risk factors." 
Patients must meet certain criteria to quality for a Fast Track Screening, which include being in overall good health with no significant medical problems or symptoms of colon cancer.  Each patient will receive an initial consultation by phone with the program's nurse navigator, who will determine his or her eligibility.  Once the patient is deemed eligible, he or she will be scheduled for the procedure with a Valley gastroenterologist or colorectal surgeon based on a health insurance match and availability, and will receive instructions and a prescription for preparatory colon-cleansing agents. 
"Our program is designed to be user-friendly, convenient, and less expensive for low-risk individuals," says Leslie W. Ringelstein, M.S., R.N., APN-C, an advanced practice nurse and nurse navigator for the Fast Track Screening Colonoscopy procedure.
For more information and to find out if you are a candidate for a Fast Track Colonoscopy, please call Leslie Ringelstein at 201-389-0808. 
Photo caption: Leslie W. Ringelstein, M.S., R.N., APN-C, Nurse Navigator for the Fast Track Screening Colonoscopy Program