April 1, 2018
Valley Medical Group-Internal Medicine/Radburn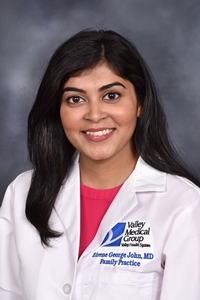 welcomes Eirene George John, M.D., a board-certified family medicine physician. Dr. John joins board-certified internist/nephrologist Lawrence J. Berman, M.D., and board-certified internist Mark E. Wertenteil in the practice, which is located at 20-20 Fair Lawn Ave., Fair Lawn. Valley Medical Group is a multi-specialty practice that comprises more than 200 physicians, physician assistants and nurse practitioners representing more than 20 specialties. 
As a family medicine physician, Dr. John provides the full spectrum of primary, preventive and urgent care for teenagers and adults of all ages. Healthcare services provided include preventive care, including physical exams, sports exams, vaccines, and flu shots; urgent care, including the treatment of acute illnesses such as the flu, ear infections, respiratory infections and others; minor procedures, such as wound lacerations and abscess drainage; and chronic care of patients with heart disease, hypertension, diabetes, asthma, depression and other illnesses. Dr. John also provides women's wellness services, such as yearly gynecologic exams, PAP smears, clinical breast exams and referrals for mammograms. 
To ensure convenience and timely diagnoses for patients, VMG-Internal Medicine/Radburn offers on-site lab tests, electrocardiograms (EKGs), pulmonary function tests, urinalyses, throat cultures and preventive health screenings for cancer, diabetes and other medical conditions. 
"As a family medicine physician, I especially enjoy interacting not only with my patients, but also with the entire family," says Dr. John. "Following patients through a continuum of health care over the course of their lifetimes – and through the interaction of family dynamics – assists me in providing optimal medical and preventive care. Incorporating women's health services into my practice assists me in helping women to prioritize their own health care needs." 
Dr. John received her medical degree from Saba University School of Medicine in 2013. Following completion of her residency in family medicine at Hackensack UMC Mountainside, she joined VMG-Internal Medicine/Radburn. Her community service includes volunteering at The Mount Sinai Kravis Children's Hospital in New York City's Child Life Program and providing health education and screenings at Elmwood Park Bible Chapel, where she is a member of the congregation. Her hobbies include scrapbooking and travelling with her family. 
In addition to English, Dr. John also speaks Hindi and Malayalam. To make an appointment with Dr. John, please call 201-703-0202.
Valley Medical Group (VMG) brings together Valley-employed physicians, physician assistant, and advance practice nurses who are based at The Valley Hospital, the Robert and Audrey Luckow Pavilion in Paramus and other outpatient facilities, Valley's seven primary and urgent care center  and medical practices throughout our community. VMG joins The Valley Hospital and Valley Home Care as the three entities that form Valley Health System.