January 30, 2018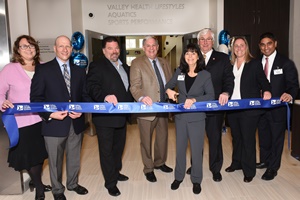 Valley Health System is pleased to announce the opening of Valley Health LifeStyles, a professionally supervised health and fitness facility at the Valley Center for Health and Wellness in Mahwah. 
Valley Health LifeStyles is a world-class health and fitness center designed to help members of all ages and fitness levels achieve and maintain a healthy lifestyle. Much more than a gym, Valley Health LifeStyles includes an aquatics area with a six-lane lap pool, a leisure/play pool and a warm-water therapy pool; state-of-the-art fitness equipment; a rock climbing wall; the KidStyles recreation area; sports performance training;  a walking and running track; and more.
Valley Health LifeStyles opens to members on February 1. The opening was celebrated in a ribbon-cutting ceremony and reception. Guests at the event included Bergen County Executive James Tedesco, III; members of the Bergen County Board of Freeholders; Mahwah Mayor William LaForet and members of the Mahwah Township Council; and members of the Mahwah Regional Chamber of Commerce.
"Valley recognizes that wellness and prevention are keys to good health," said Audrey Meyers, President and CEO of Valley Health System and The Valley Hospital. "The cornerstone of our Center is Valley Health LifeStyles, a world-class fitness center designed to help everyone achieve and maintain a healthy lifestyle.
"One of Valley's core objectives is to provide our population with the right care, at the right time, in the right setting," Meyers said. "This innovative health and wellness center will help us achieve this by bringing together a wide range of health services under one roof in an effort to significantly improve the health of our community."
U.S. Representative Josh Gottheimer was unable to attend the event, but sent along a letter of congratulations noting that," Valley Health System has long been a leader in providing high-quality care for northern New Jersey. By serving more than 440,000 people across Bergen County and surrounding communities, you have helped improve the lives of countless residents in the Fifth District.  
"The new 'healthcare hub' will keep our community healthy and provide services for all people while employing talented New Jersey residents. I commend your dedication to your patients and desire to improve the health and quality of life for thousands within our community," Gottheimer said in his letter.
County Executive Tedesco and Thomas J. Sullivan, Chairman of the Bergen County Board of Chosen Freeholders, both presented Valley with Certificates of Commendation in recognition of the opening of the new Center for Health and Wellness. 
"I want to congratulate Valley Health System on helping the people of Bergen County to continue to stay fit," Tedesco said. "Today we stand in a state-of-the-art building that will allow people to help themselves and to control their own health."
Mayor LaForet presented a plaque welcoming Valley to Mahwah and noted, "This facility means so much to our residents, it says a lot about your commitment to our community and we thank you so very much."
What sets Valley Health LifeStyles apart from other facilities is the emphasis on "the medical fitness difference."  
"As a medical fitness center, the focus is on the prevention and treatment of disease, illness and injury through regular participation in physical activity, disease management and health education," said Robert Silverman, M.D., Medical Director of Valley Health LifeStyles.
The Valley Center for Health and Wellness is a 75,906 square-foot building located at 1400 MacArthur Blvd. in Mahwah.  In addition to Valley Health LifeStyles, when fully completed the Center will house a range of health and wellness services including health screenings; a diagnostics laboratory; The Valley Hospital Sports Institute; a Valley Medical Group urgent care center; diagnostic imaging services; community health programs and services; a retail pharmacy; and conference space.
For more information about Valley Health LifeStyles, stop by the Center for Health and Wellness or call 201-389-0839.