September 28, 2017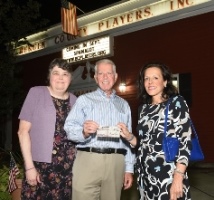 On the evening of Thursday, September 14th, 2017, Bergen County Players, Inc. presented a check to Valley Home Care in the amount of $2,550, which is being directed towards the Journeys program.
Valley Home Care offers a full spectrum of services to meet a variety of healthcare needs.  The dedicated and compassionate staff specializes in the prevention and relief of suffering, and provides complex and highly skilled care to patients of any age and with every type of diagnosis throughout this northern New Jersey vicinity. 
Through this donation to Journeys, Bergen County Players is helping children and adolescents who are faced with the death or life-threatening illness of a loved one.   Journeys is a nationally recognized support program, and our professional clinicians use art and play therapy to help children develop skills to cope better with anticipated and actual loss. Each therapist has many years of experience helping children face loss and has devoted their career to helping children heal.
"Thanks to this generous donation from Bergen County Players, Valley Home Care staff is able to provide this critical support program in a safe and caring environment to many more children and adolescents in our community," acknowledged Laura Loumeau-May, ATR-BC, LPC, Valley Home Care. 
About Bergen County Players 
The Bergen County Players has grown tremendously from its roots as a small community theater when it was founded in 1932. Today, nearly 300 volunteer members, working on and off stage, make possible the nine productions presented each season. 
Photo: Lynne Lupfer, President of the Bergen County Players; Sheldon Stone, Bergen County Players Charity Chair; Sandy Carapezza, Director of Development at The Valley Hospital Foundation