Where Buying Means Giving
For more than 50 years, Kurth Gift Shop, staffed primarily by volunteers, has offered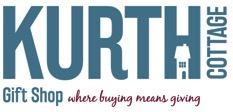 visitors, patients and staff a wonderful selection of special gifts for all ages. 
Proceeds from purchases at Kurth Gift Shop go towards the Valley Hospital Auxiliary's pledge to support Valley Health System's healthcare programs and services. 
Kurth Gift Shop is located on the first floor of the Phillips Wing in the hospital.
Hours of Operation
Monday through Friday: 8:30 a.m. to 7 p.m.
Saturday and Sunday: 10 a.m. to 4 p.m.
Available Items
Flowers, balloons and plants
Baby gifts
Greeting cards  
Personal care items
All occasion gifts
Seasonal gifts
Toys and stuffed animals
Jewelry  
Candy, cookies and snacks
Newspapers and magazines
Chic women's apparel and accessories
Spa products
Pajamas